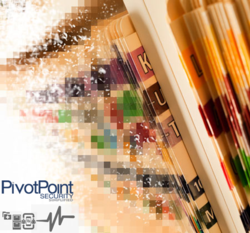 Because a data breach hurts
Hamilton, NJ (PRWEB) February 23, 2012
John Verry, Pivot Point Security's "Security Sherpa" and ISO 27001 Certified Lead Auditor, developed the new Healthcare IT Security practice to help organizations in the Healthcare industry understand where their IT Security stands against industry standards and regulations.
"Because a data breach hurts," says Verry, "companies need to assess their risks and address any issues before a breach occurs."
Addressing Healthcare IT Security Challenges
"The formalization of a Healthcare Practice reflects the significant growth in activity/projects we have experienced in the sector over the last 18 months", says Lisa Zorovich, Director of Operations. "Formal practice areas provide a structured mechanism to tailor our service offerings in a manner that reflects the information security challenges that are unique to the sector".

The need to keep information not only confidential, but also accurate and always available;
Securing the devices and wireless networks necessary to support mobility requirements, manage Electronic Protected Health Information (ePHI) access in a manner that does not impede patient care, and ensure the security of medical devices throughout their lifecycle;
Demonstrating compliance with a countless overlapping and ambiguous standards (e.g., HIPAA, HEDIS, SOX, PCI, HITRUST);
Manage third-party risk associated with the growing need to share sensitive data with vendors/business associates to achieve business goals, and monitoring business associates to ensure they are compliant with HIPAA; and,
Ensuring that EHR, the technology necessary to support it, and new policies, standards and procedures required to operationalize it, all ensure that access to ePHI is restricted to those authorized.
"I'm excited about our Healthcare IT security practice, I believe that we have the right combination of Information Security/Compliance domain expertise, health care knowledge and experience, and organizational character to help Healthcare organizations define and execute on the best course of action to address their unique information security challenges. Our focus on building fundamentally sound Information Security Management Systems leveraging open and trusted frame-works like HITRUST and ISO 27001/2 is the simplest approach to complex security/compliance challenges."
About Pivot Point Security:
Pivot Point Security has the right combination of Information Security/Compliance domain expertise, healthcare industry knowledge and experience, and organizational character to help you define and execute on the best course of action so you can know you're secure and prove you're compliant. For more information visit http://www.pivotpointsecurity.com
###