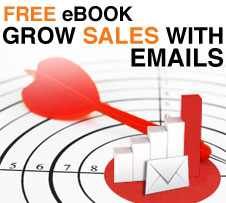 "We'll show sales people how to turn what the emails they're sending out everyday into power packed campaigns that drive sales!", Craig Klein
Houston, Texas (PRWEB) February 23, 2012
SalesNexus today announced their upcoming live webinar, "7 Easy Ways Sales Teams Win with Email Marketing", on Wednesday, March 7th at 3pm Eastern.
In the webinar, SalesNexus CEO, Craig Klein, will outline simple and affordable steps any sales person or sales team can take immediately to begin growing sales with email marketing without investing in new software or services.
"Our ebook, 'Grow Sales with Emails' has been tremendously popular. Our webinar gives sales teams the opportunity to see first-hand how these principals can be applied easily.", said Klein. "Getting started with email marketing doesn't have to be difficult and it does not require a marketing degree. It is our belief that no one benefits more quickly from email marketing than sales people!", said Klein.
The popular ebook, "Grow Sales with Emails" details 7 simple and affordable steps any sales team can take immediately to begin nurturing relationships with leads and customers via email campaigns and automating all of the email correspondence with customers to improve sales results.
"The webinar will allow us to dig into exactly how sales people and sales managers can start nurturing leads and customers with email marketing with the tools they have available to them today", said Klein.
Webinar attendees will learn to create emails that get appointments, identify qualified prospects and easily begin building valuable content that prospects will be glad to receive. "Our objective is to allow any sales person to immediately logon to their contact management or CRM software and start their first campaign as soon as the webinar is over", said Klein.
Sales people, sales managers and marketers can register for the webinar here - http://www.salesnexus.com/webinars/webinar-7-ways-sales-teams-win-with-email-marketing/
The webinar will be recorded and available in video format at the same location.
About SalesNexus
SalesNexus, located in Houston, Texas, is a privately held software development company dedicated to customer relationship management (CRM), sales force automation and marketing automation for small- to mid- size businesses. The SalesNexus web based CRM enables sales teams to generate more leads, close more sales and keep customers longer. SalesNexus' unique combination of online CRM and Email Marketing technology is matched by the industry's most proactive and responsive support services.
###