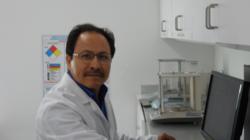 Frank will play a critical role as PCC expands our market in liquid colorant products
Calumet City, Ill. (PRWEB) February 25, 2012
PCC (Plastics Color Corporation), a leading supplier of color concentrates, specialty compounds and additive masterbatches for the plastics industry, today announced an important addition to its technical staff. Frank Muñoz has assumed the position of quality control and liquid color technician at the company's Sun Valley, California facility. Prior to joining PCC, he held production and quality control positions for several Southern California polymer companies.
In announcing Muñoz's hiring, Global Technology Manager Fred Jhaveri noted his 20 years of experience in the colorants industry in manufacturing, quality control and color matching roles. Muñoz will be supervising all QC functions and color matching at the facility, and production of liquid color and additives products. "Frank will play a critical role as PCC expands our market in liquid colorant products," said Jhaveri. According to Vice President of Business Development Tim Workman, "the technical expertise and supervisory experience Frank brings to PCC will help us provide our customers with more options in their production."
Plastics Color recently constructed a liquid color and additive production line at the Sun Valley plant, in order to fulfill demand for its new LiquiSol™ line of products and services. LiquiSol is a turnkey system for utilizing liquid in molding operations. The system includes consulting, process development, hardware and all necessary products for introducing liquid as an alternative to color and other product concentrates. It works in virtually any manufacturing environment and may offer cost and other manufacturing advantages, depending on each individual situation.
About Plastics Color Corporation
Plastics Color Corporation (PCC), headquartered in Calumet City, Ill., is a global provider of colorants, compounds, additive masterbatches and custom polymer solutions for an extensive range of markets including pharmaceuticals, medical, consumer goods and others. PCC supports virtually every type of manufacturing process and material. We engage our customers from concept to commercialization and help them develop new cutting-edge products that lead the market. PCC has more than 40 years experience in the polymer industry and operates fully-equipped product development laboratories and manufacturing facilities in California, Illinois, North Carolina and Nanjing, China. PCC's Illinois and North Carolina labs are certified by the American Association for Laboratory Accreditation, A2LA. PCC also provides testing and product development services through our Solutions Center in Asheboro, N.C. For more information, call (800) 922-9936 or visit http://www.plasticscolor.com.
###