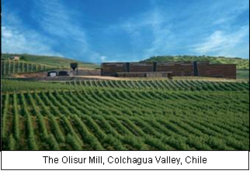 Providencia, Chile (PRWEB) February 23, 2012
With May less than three months away, the countdown is on to olive harvesting time in Chile. With its warm, mild climate, clear air, breathtaking mountains, and valley river, the Old World beauty of Chile's Colchagua Valley is fast becoming the backdrop for New World agriculture. Known for its wine vineyards – it's been called the "next Napa" and was named 2005 Wine Region of the Year by Wine Enthusiast magazine – Colchagua Valley is now making a name for itself among olive oil enthusiasts, as well. Olisur®, Chile's leading olive oil producer, owns and operates both a vineyard and an innovative estate-grown olive farm in the area, and represents a New World revolution in extra virgin olive oil cultivation and production.
Like vineyards, olive groves require the right land, climate, and water conditions to produce high-quality extra virgin olive oil (EVOO). The Colchagua Valley is known for long hot summers and mild, wet winters; ideal conditions for ripening olives slowly and intensifying their flavors. This made Chile a prime location for Olisur's estate-grown olive farms. Established in 2005, Olisur's goal was to pair this premier location with modern farming techniques, thereby producing a high-quality extra virgin olive oil at a better value. O-LIVE & CO™ EVOO is the culmination of their efforts.
Olisur's vertically integrated process makes all the difference in the quality and value of their O-LIVE & CO EVOO. Olisur oversees the entire olive oil production process, from tree to press to distribution, to ensure high quality standards are consistent throughout. Olisur's olives are grown in an efficient, cost-effective manner using modern agricultural techniques such as high density growing and machine harvesting.
The Colchagua Valley's rich soil and abundant water allows Olisur to plant ten varieties of olives across 6,500 acres, at ten times the density of some European estates. Like wine, olive oil can be made from a single varietal or a blend of olives to create different flavor profiles. The olive varieties produced in Olisur's groves – the aromatic Arbequina and fruity Frantoio and Arbosana, among others – allow the creation of unique blends. Olisur's olives are mechanically harvested at peak maturity, when they reach the ideal size, color and flavor. This mechanical method, as used in some wineries, preserves the integrity and character of the fruit.
The proximity of Olisur's olive oil mill, or almazara, to the farm also allows Olisur to press olives within just two hours of harvesting, thereby minimizing handling, preventing oxidation and ensuring that O-LIVE & CO EVOO achieves a low 0.2% free fatty acid level with no defects.
Once the ripe olives have been pressed, the fresh oil is stored in a hermetically sealed high-tech storage system to keep it fresh, then bottled immediately before shipping worldwide. The result is a fresh, quality EVOO at a price that encourages daily use.
To learn more about Olisur or O-LIVE & CO EVOO, please visit o-liveandco.com.
Media: for interviews with Olisur executives, please call the contacts listed at the bottom of this press release.
About O-LIVE & CO™
O-LIVE & CO represents a New World revolution in extra virgin olive oil cultivation and production. Produced by Olisur®, Chile's leading olive oil producer and a true innovator in the industry, O-LIVE & CO produces and sells award-winning, high-quality extra virgin olive oil to rival those traditionally labeled the best in the world… but at an unsurpassed value. Only
O-LIVE & CO's extra virgin olive oil offers the 2-Hour Fresh Guarantee, with no more than two hours elapsing between tree and press, never more than 0.2% acidity, and no defects. Olisur's 100% traceable, vertically integrated production process ensure authentic quality in every bottle, while its modern farming techniques yield faster production, a fresher product and a better value. This means consumers experience the highest quality and freshest taste in every bottle, at a price that lets them indulge every day.
MEDIA CONTACTS:
Diego Romero
McFadden/Gavender
O: (520) 882-6262
M: (520) 401-1693
diego(at)mcfaddengavender(dot)com
Karen Gavender
McFadden/Gavender
O: (520) 882-6262
M: (520) 603-4200
karen(at)mcfaddengavender(dot)com
Website
o-liveandco.com
###