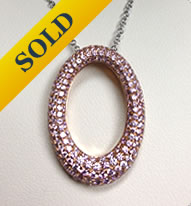 Sunrise, FL (PRWEB) February 24, 2012
H. Seigel Fine Auctions has recently sold one of the Limited Edition O pendants, a highly coveted piece of jewelry designed exclusively for Oprah Winfrey. Only 100 of these pendants were produced worldwide, with the pink diamonds coming from the Rio Tinto's Argyle mine in Australia. The exclusive piece of jewelry received 29 bids in less than 6 minutes and sold for $35,000.00 USD, reflecting the increasing appreciation of the value of rare colored diamonds.
HSFineAuctions.com is the world's premiere rare colored diamond and fine collectibles live auction website. It brings together a diverse collection of rare colored diamonds and fine collectibles from across the globe for investors and collectors alike. Founder and owner, Harold Seigel is an expert on rare colored diamonds, precious metals and fine collectibles investments. He has been featured on CNN, CNBC, Rush Limbaugh, and The Michael Campbell Show, to name just a few. He is also the owner of RareColoredDiamonds.com and hosts The World Financial Report on HESRadio.com to educate investors on the rapidly growing rare colored diamond market.
HSFineAuctions.com was developed by Relentless Technology, an Internet marketing and website development company based in Vancouver, BC, Canada. The site was designed to host live auctions, complete with streaming live audio and real-time bidding.
The first-ever live auction opened on Monday, November 21st, 2011 at 7:00 EST and was an overwhelming success. All 10 lots sold in just under an hour, fetching fantastic prices and generating lots of excitement. The bidding was fast and furious as investors raced to take advantage of the first ever rare colored diamond and fine collectibles live auction. To date, 97% of all products listed in the auctions have sold. Collectibles such as silver coin sets have been selling for three times intrinsic market value.
The auctions are open to everyone. To find out more about H. Seigel Fine Auctions, or to sign up for the next live auction, visit HSFineAuctions.com.
###