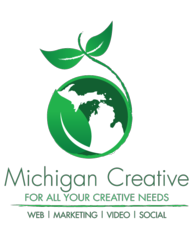 Inspiring a creative local economy.
East Lansing, MI (PRWEB) February 25, 2012
You can tell Brian Town, CEO of Michigan Creative, and his team have a sincere love for this state just by reading the credo on their website, "We believe in Michigan and know that the spirit of the community and its businesses will drive our local and state economies to new heights."
They can create a campaign to fit any need. Town has over twenty years experience in video production, and is an Apple certified trainer. They also offer marketing plans that include various social media accounts, search engine optimization, web design, and photography. Michigan Creative makes it a point to practice what they preach, using social media for their own marketing as well.
Their previous customers have nothing but wonderful things to say about the company and their work. They are currently producing an ad campaign for Krislin and Knight Pet Toys that star their very own precious pups. The videos produced by Brian and his team are a key part of this campaign. You can find all of their videos for the pet toys on their YouTube Channel.
Michigan Creative is moving forward swiftly. As they take on more Michigan-based clients, they are looking to add four or five interns to their staff this summer. These interns will monitor their social networking sites, write articles, produce and edit video work, maintain their websites and manage new clients.
Their eagerness to expand their clientele and help the Michigan economy makes this a company to watch in the next few years. They have plans to move to a larger location and take on more employees committed to their goal. They also understand the need for well trained and happy employees and will strive to make their staff leaders in the area.
Find them on Facebook (Michigan Creative Media), Twitter (@michcreative), Pinterest (Michigan Creative), and YouTube (Michigan Creative).
For more information about Michigan Creative, contact Brian Town at brian(at)michigancreative(dot)com, call 517.899.4533, find them on any of their social networking sites, or on the web at http://www.michigancreative.org.
###