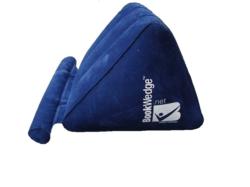 Wimberley, TX (PRWEB) February 28, 2012
Cypress Creek Marketing, known for bringing innovative products to market, announces the BookWedge a hip, ergonomically designed inflatable book support pillow that is the comfortable solution for iPads, tablets, e-readers like Kindle and Nook, and books of all shapes and sizes. The BookWedge is available now in the U.S, and will soon become available in Australia, Canada and Europe.
Weighing in at three-ounces, the inflatable BookWedge is a wedge-shaped pillow with a front bumper that holds the book, iPad or e-reader safely in place. The BookWedge design makes it a sturdy, safe base for any book, iPad or e-reader. It's especially comfortable for use in your lap, and can make reading a hands-free experience in your lap or on a tabletop!
It inflates easily with two or three breaths. Crafted of sueded vinyl with a velvety feel, it deflates to practically nothing, or rolls up for easy, quick storage in a briefcase, backpack or carry-on luggage – it's the perfect travel accessory!
Margie Williams, Managing Partner of Cypress Creek Marketing, and creator of the BookWedge, says the BookWedge was designed in response to requests from readers for a lightweight, transportable book pillow. "Our companion product, the WondaWedge, is a comfy, inflatable reading pillow that offers proper back support. The BookWedge was a natural extension of the product line. It's amazing the shoulder, neck and arm strain that some readers suffer, and these products are a remedy for those aches and pains. I'm a reader myself and know that comfort can enhance or distract from the reading experience."
The BookWedge:

The ONLY inflatable/deflatable book pillow
The lightest weight book pillow available
The most affordably priced book pillow
Travels easily
Cleans with soapy water and soft brush
Provides sturdy, secure support
The BookWedge is available in various retail outlets including bookstores and on-line stores. Priced affordably at $19.99 or less, the BookWedge makes a great gift for any reader.
The BookWedge can be imprinted on the bumper with a phrase or logo.
Cypress Creek Marketing
Global Master Distributor for WondaWedge and BookWedge
http://www.cypresscreekmarketing.com
Contact: Margie Williams
margie(at)cypresscreekmarketing(dot)com
800-549-5773 x 221
###