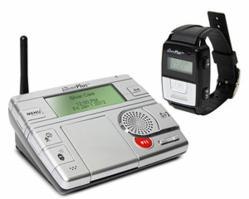 Because a very common problem for the elderly is falling, being able to reach help quickly is paramount.
Riverside, CA (PRWEB) February 23, 2012
In the United States there are now 35 million people over the age of 65, that's 13% of the population, reports online magazine Psychology Today. With the reluctant help of the baby boom generation, it is estimated there will be 70 million elderly people by the year 2030. Getting old inevitably means one will encounter additional health risks and challenges, according to Director of San Diego County's Aging and Independent Services Pam Smith.
"Falls are the leading cause of injury deaths for people age 65 years or older, and the number of hospitalizations from falls keeps rising every year, but this is preventable," said Smith.
One way to help seniors prevent death or serious injury from a fall is being able to react quickly and summon help within seconds.
Michael Sise, MD of Scripps Mercy Hospital adds, "Once you fall, particularly if you break something, there's a good chance you won't live independently again, and that's if you survive. When your older and you fall you can injure your brain, you can break bones, you can break your hip or your spine. It's a major problem. It can have lifelong implications."
Because a very common problem for the elderly is falling, being able to reach help quickly is paramount. This is where Home Security Store's new SilverCare Personal Daily Living Assistant - Watch Kit comes in, which offers something typical medical alarms do not.
"Statistics show that about 70% of slip and fall accidents occur in the bathroom, and most traditional alert devices don't allow 2-way communication unless you are close to the base console that attaches to your phone line," said SilverPlus, Inc. Sales & Customer Care Manager Pam Niemi.
"SilverCare integrates advanced technology to provide features well beyond a traditional medical alert system, including two-way communication directly from the watch; a dedicated 911 button; the ability to auto-dial up to 6 loved ones; remote call-answering; medication and appointment reminders; and an optional accessory that allows the user to turn lights on and off remotely."
What's even better, adds Niemi, are no monthly monitoring fees and no hidden costs. But don't just take Niemi's word for it. 81-year-old JoAn Case was paying a monitored monthly fee for about 5 years until she found out about SilverCare from her neighbor. Case says that the SIlverCare Watch Kit met her expectations and then some.
"My watch I love. It's convenient and the numbers on it are big enough so I can read the time," said Case.
Case has 11 grandchildren and keeps busy with them and volunteering. However, Case also lives alone so she needed a medical alert solution that fit her needs. Here's one reason she chose the watch over a traditional pendant, "Whenever I would bend over, I would catch the pendant on things and so I didn't wear it very much so it wasn't really beneficial."
In addition, with the SilverLite accessory, the SilverCare watch can control the lighting within your home. All one has to do is press a button on the watch and it will turn a light on.
"What I like about it is when I come home to a dark house or I stay out later than expected, I can turn the light on with my watch and just walk right in the door into the light," said Case.
The SilverCare Personal Daily Living Assistant - Watch Kit has also been awarded the 2011 Caregiver Award for best product from Caregiver magazine.
About Home Security Store, Inc.
Home Security Store is the premiere online ecommerce website specializing in home security, including: affordable DIY wireless and hardwired security systems, security camera systems, fire alarm systems, spy equipment, survival gear, and more. The company brings together highly-trained, professional technicians and a state-of-the-art product line to provide the most comprehensive home security source found online. The company offers FREE and FAST shipping, plus FREE tech support. For more go to http://www.homesecuritystore.com
###