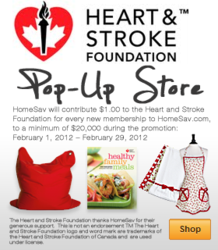 Toronto, Ontario, Canada (PRWEB) February 24, 2012
HomeSav.com, a Canadian, private online shopping club focused on designer home décor, furniture, and luxury lifestyle products, has partnered with the Heart and Stroke Foundation, in support of heart month. In February HomeSav.com is running a Heart and Stroke pop-up sale featuring amazing products such a yoga wear, exercise products, inspirational art and décor items. Homesav.com will donate $1.00 for every new member to join the site.
Heart disease and stroke take 1 in 3 Canadians before their time. They are the #1 killer of women – taking more women's lives than all forms of cancer combined. "Every donation is giving the people you care about more time - for more experiences, more memories and more living. By joining HomeSav.com you are helping the cause" says, founder and co-CEO Allan Fisch
"The Heart and Stroke Foundation is an organization whose goal is to help Canadians reduce their risk of heart disease and stroke and promote healthy lifestyles. HomeSav is proud to sponsor such a wonderful organization," says Aliza Pulver, Co-Founder. "For ever new member to join our site we will donate $1, we encourage Canadians to visit http://www.homesav.com/heart and join our site to help us get to our goal of $20,000. "
About HomeSav.com
HomeSav.com is inspired living at up to 80% off every day! HomeSav.com is a leading flash designer sales site in the home decor and furniture market. HomeSav.com launches new sale events each morning introducing new brands and their products. HomeSav.com takes the guess work out furnishing and buying product for your home, and adding the fun back into your decor shopping spree. HomeSav products include home decor, furniture, art, kitchen, outdoors, gadgets, seasonal, and family related luxury home accessories.
If you are interested in becoming a vendor or partner please contact Aliza (at)HomeSav(dot)com. Membership is free and shoppers can register at http://www.homesav.com/heart
About Heart and Stroke Foundation of Canada
The Heart and Stroke Foundation of Canada (heartandstroke.ca), a volunteer-based health charity, leads in eliminating heart disease and stroke and reducing their impact through the advancement of research and its application, the promotion of healthy living, and advocacy.
HomeSav will contribute $1.00 to the Heart and Stroke Foundation for every new membership to HomeSav.com
###