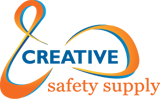 Leaders in Visual Safety
Beaverton, OR (PRWEB) February 24, 2012
With the new year flying by so fast Creative Safety Supply quickly realized they needed more catalogs to be printed for 2012. There design team sprang into gear to make a large over-haul and massive improvements in the catalog. The release was almost 2 months later then planned but the improvements are worth the wait.
The first area that was overhauled is the LabelTac and BradyID section including over 12 new industrial label printers and a large area devoted for supplies. Brady has become a large focus for us heading into 2012. Brady's printers create durable, clear, professional-looking labels and they have the best hand held label printers in the industry.
The Second improvement has to be in the SafetyTac Industrial Floor Tape area. The SafetyTac brand has changed a lot this year with new adhesive and a hard top coating to increase the density of the product making SafetyTac more industrial than ever before.
The biggest catalog improvement was in the large increase in production and supply needed to keep up with the demand of LabelTac Industrial Label Printers. These improvements include new stock including Arc Flash, NFPA, and Die Cut labels and a best-in-class Industrial Thermal Ribbons that are the most chemical resistant on the market.
From the "Leaders in Visual Safety"
Direct Link to Catalog: Click Here
Creative Safety Supply
Phone: 1-866-777-1360
Fax: 333-777-8818
http://www.creativesafetysupply.com/
###