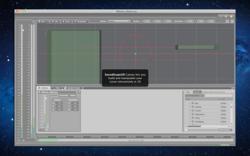 VibeStationLE will change how people think of 3D and surround sound design
Arlington, Virginia (PRWEB) February 27, 2012
Customers have been asking for a 3D sound design capability on the Mac platform and today VRSonic delivered. VRSonic announced the release of its flagship 3D sound design software, VibeStationLE, on Apple's Mac App Store. For just $79.99, sound designers, musicians, DJs, as well as virtual environment developers can easily create compelling 3D and surround sound content for their projects.
VibeStationLE is a feature rich application that will change the way people think of 3D and surround sound design. Using its 3D sound canvas, designers can easily create compelling dynamic sound environments simply by dragging objects onto the scene. These can be audio sources from sound files and mic or line inputs, room geometry that creates physically based reverb and occlusion effects, as well as path motion animation. Designers can control every aspect of how the sound is rendered by manipulating an initiative set of parameters for each object. Best of all, VibeStationLE is completely interactive so designers can audition their scene as they're editing it.
For live applications, VibeStationLE provides a comprehensive Open Sound Control (OSC) protocol that allows users to control every aspect of the audio scene by sending OSC messages to the application. OSC clients can be on the same computer or an external control surface such as Apple's IPad. This creates a host of possibilities for DJs, musicians, virtual environment, as well as installed sound developers to explore interactive applications of 3D and surround sound.
About VRSonic - we are a team of developers, researchers, artists, and business people out to create the next generation of 3D audio technology. For over a decade we've been working to transform how people experience sound in film, television and interactive applications. Spatial audio is a new medium that requires new ways of thinking about how sound is designed and rendered. Our mission has always been to develop technologies that enable you to explore this new medium; to give you the power to transform ideas, however ambitious, into sonic reality. This is the driving force in everything we do.
###