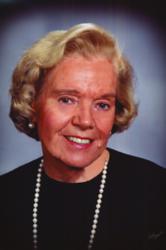 Tucson, AZ (PRWEB) February 23, 2012
This March, Joyce Stewart, co-founder with her husband, Roger Stewart, of Tucson's AGM Container Controls, Inc., will be recognized by the National Institute of Packaging, Handling and Logistics Engineers (NIPHLE) for 50 years of service and leadership in the military packaging and handling industry with their "Special Award." In fact, NIPHLE's leadership has decided to rename this special award as the "Stewart Recognition Award" in Joyce's honor. The award will be presented during the NIPHLE conference taking place March 27-29 at the Pentagon. This award has only been bestowed on four previous recipients in the last 49 years. Joyce will be the first woman to receive this rare award.
Established in 1956, NIPHLE is a professional organization which aims to improve communication between the military and packaging, handling and logistics professionals in the military/industrial defense complex.
Joyce is being presented with the Stewart Recognition Award in honor of her many years of dedicated, sustained, superior service above and beyond the call of duty in numerous highly responsible official capacities for NIPHLE.
According to NIPHLE's current leadership team, Joyce and the rest of the Stewart family will be recognized for their enduring service to, and support of, the military packaging, handling and logistics industry. For example, both Joyce and Roger have each dedicated more than 50 years of service and leadership to the military packaging/handling community.
In 1970, Roger and Joyce established AGM Container Controls in Tucson, beginning by manufacturing environmental control hardware for containers that hold missiles and other sensitive equipment. The company remains a leader in the design and manufacture of products that control and monitor moisture (desiccators and humidity indicators), pressure and vacuum changes (breather valves) and shock and vibration (tie downs and shock overload indicators). Their products are used for a variety of applications in defense, aerospace and electro-optical industrial and commercial markets to protect and extend the life of critical equipment, such as missiles and engines. Even through the economic downturn, AGM's product line and team have continued to grow. Their facilities have the approval of the Army, Navy, Air Force, Atomic Energy Commission and NASA.
Joyce and Roger retired from AGM in November 2012; AGM has been run by their only son, Howard, who began his career at AGM back in 1971, when he primarily worked in AGM's Production and Shipping Departments. Howard returned to AGM in 1989 and worked his way up to President by 2000. Since he has taken over as President, AGM has been one of only three Southern Arizona companies to be recognized with all three Wells Fargo Copper Cactus awards (2001 "Business Growth," 2002 "Best Place to Work," and 2004 "Community Service"), as well as having been honored with Tucson's Small Business Leader of the Year Award in 2002. In 2009, AGM was honored by the U.S. Chamber of Commerce with the "America's Best Small Business" award.
Joyce, Roger and Howard have long been involved with the NIPHLE community. Joyce and Howard have each served as a past president of the professional organization. Joyce and Roger are Life Members and members of NIPHLE's National Military Packaging Hall of Fame, with Joyce being the first woman to ever achieve this status, which occurred back in 1997. In addition, Howard has presented on several related topics over the years during NIHPLE conferences, discussing such topics as The Transformational Power of Information Technology in Government Procurement (2011) and How Innovative Management Best Supports the Needs of the War Fighter (2010).
In addition to this year's NIPHLE Stewart Recognition Award, Joyce was awarded the NIPHLE Handling Annual Achievement Award in 1994. The Stewart's family-run business, AGM, was honored with NIPHLE's Distinguished Service Award in 1999 and 2004. The annual award recognizes those firms that have made notable contributions to the packaging, handling and logistic profession in addition to providing significant support to NIPHLE.
Media: To schedule an interview with Joyce or Howard Stewart, please call the contacts listed at the bottom of this release.
About AGM Container Controls
Established in 1970, AGM manufactures environmental control hardware for containers that hold missiles and other sensitive equipment. Since 1988, AGM has been an Employee Stock Ownership Plan business. In 2009, AGM was honored by the U.S. Chamber of Commerce with the "America's Best Small Business" award.
MEDIA CONTACTS:
Diego Romero
McFadden/Gavender
O: (520) 882-6262
M: (520) 401-1693
diego(at)mcfaddengavender(dot)com
Karen Gavender
McFadden/Gavender
O: (520) 882-6262
M: (520) 603-4200
karen(at)mcfaddengavender(dot)com
Website:
http://www.agmcontainer.com
###