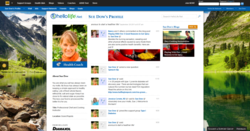 We all want to live healthy, but let's face it, we want it to taste good as well
Grand Rapids, MI (PRWEB) February 24, 2012
Today, HelloLife welcomed new health coach, Sue Dow, or as most know her, Sue Chef.
Dow joins an already stellar group of health coaches on the Smart Living Network, where she will be posting her recipes, making videos, writing blogs, and adding more of a crafting experience to eating and living healthy.
"We all want to live healthy, but let's face it, we want it to taste good as well," said CEO and President, Albert Duoibes. "Sue will really be able to tie in our message of smart living with easy to prepare, cost effective recipes."
"Living a healthy life begins with the foods that we eat and I am proud to join the HelloLife team as a health coach and cooking instructor," said Dow. "I look forward to spreading my message of healthy eating and living throughout the Smart Living Network!"
HelloLife, LLC is an Applied Life Science and Technology company doing business in the fields of health and wellness. The company operates under Good Manufacturing Practices (GMPs). These are strict, federal manufacturing processes of products for human consumption, such as drugs, dietary supplements and food. GMP standards allow total documentation of all processes, from production to distribution ensuring consistency and high quality. HelloLife Relieve products are intended for relief of self-limiting conditions. Chronic or severe symptoms should be reviewed by a trained medical professional.
HelloLife is committed to providing safe relief, nutritional support and education for healthy lifestyle choices. Its headquarters are located at 4460 – 44th St. SE, Ste. C 600, Grand Rapids, MI, 49512. Our products are available to consumers via retailers, health care professionals and direct mail. For more information about the company or our products, visit our website at: http://www.hellolife.net.
###