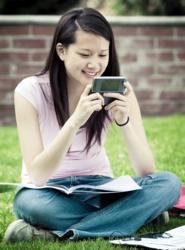 National data suggest that 32% of all teenagers who have used the Internet say they have ever been targets of online harassment ...
Eugene, OR (PRWEB) February 28, 2012
"We need to capture the potential of social media while at the same time ensure that it is a safe environment for young people," says Steven Ungerleider, PhD., founding editor of The Prevention Researcher. "Turning to prominent social media researchers can provide insights that professionals working with youth can use to help teenagers remain safe and avoid dangers online."
With more than a decade of experience conducting research studies on youth internet victimization and commercial exploitation of minors, Dr. Kimberly J. Mitchell, Research Associate Professor at the Crimes against Children Research Center, has written extensively about youth internet use and safety.
In an article published in The Prevention Researcher, Dr. Mitchell answers seven questions about social media posed by professionals who read the quarterly journal on successful adolescent development. She notes that among the predatory activities aimed at youth, the "dangers that have received the most attention include sexual solicitations, cyberbullying or harassment, and more recently, involvement is "sexting" (youth production of sexual images)."
"National data suggest that 32% of all teenagers who have used the Internet say they have ever been targets of online harassment (receiving threatening messages, having their private emails or text messages forwarded without consent, having an embarrassing picture posted without permission, or having rumors about them spread online)," says Dr. Mitchell. "Sexting, or the creating, sharing, and forwarding of sexually suggestive nude or nearly nude images by minor teens, is one of the most recent technological concerns for parents and professionals. One in six teens (15%) with a cell phone, ages 12-17, have received a sexually suggestive image or video of someone they know; 4% of cell-owning teens say they have sent sexually suggestive nude or nearly nude images of themselves to someone else via text messaging. The research shows a steady increase in likelihood of involvement in sexting by age."
Dr. Mitchell notes that "risk factors for aggressive unwanted solicitations (those which involve an attempted or actual offline meeting) include being female, using chat rooms, using the Internet with a cell phone, talking with people met online, sending personal information to people met online, talking about sex online, and having a history of offline physical or sexual abuse. These findings suggest some direction for working with youth to promote Internet safety. One area to explore is why youth engage in certain online behaviors like talking about sex with and sending personal information to someone met online. Professionals and parents should continue to establish rules about such behavior, and to educate youth about the potential dangers associated with such activities."
Among possible strategies for parents to employ to ensure their teens are using social media safely and respectfully, while at the same time respecting their teens' privacy, Dr. Mitchell says that "the data to date suggest that the dangers posed to youth on social media are similar to those in other places on the Internet. Internet safety messages may be most effective if they target the behavior first and the modality second. For example, harassment occurs on social networking sites but also over instant messaging, in chat rooms, on gaming sites, and in other places as well."
"Children should be taught that harassing statements are inappropriate no matter where they are online," says Dr. Mitchell. "Internet safety messages should directly address how youth portray themselves online, including the content on their personal pages and how they interact with others, instead of simply warning of dangers of social networking sites alone. If youth are not portraying themselves appropriately and safely on social networking sites, it is likely that this behavior extends to other aspects of the Internet, and non-technological environments, as well."
For complete answers to all of the questions posed in the article on "Remaining Safe and Avoiding Dangers Online: A Social Media Q & A with Kimberly Mitchell",link directly to The Prevention Researcher or visit http://www.tpronline.org.
About The Prevention Researcher
Founded in 1994, The Prevention Researcher is published by the non-profit, Integrated Research Services in Eugene, Oregon. The quarterly journal focuses on successful adolescent development and serves professionals who work with young people in a variety of organizational settings.
Each issue of The Prevention Researcher covers a single topic, presenting the latest adolescent behavioral research and findings on significant issues facing today's youth. The journal provides information about programs that create supportive environments for youth, strategies for preventing problems affecting adolescents, and resources that help youth-serving professionals.
###