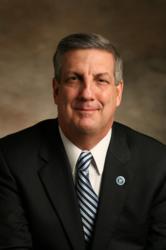 Baltimore, MD (PRWEB) February 23, 2012
Notre Dame of Maryland University has selected as its next president James F. Conneely, Ph.D., the first man and only second layperson to serve in the position in the 116-year history of the institution founded by the School Sisters of Notre Dame as America's first Catholic women's college to award the baccalaureate degree. Dr. Conneely, 55, currently associate provost and vice president of student affairs at Eastern Kentucky University, will succeed Mary Pat Seurkamp, Ph.D., the first permanent layperson to lead Notre Dame, when she retires on June 30th following her highly successful 15-year tenure. The decision by the University's Board of Trustees on February 16, 2012 was unanimous.
"While we were open to the possibility of a man as our 12th president at the start of the search process, probably none of us was expecting that we would select a man as Notre Dame's next leader," explained Patricia J. Mitchell '69, chair of the Board of Trustees. "Some have asked, 'Couldn't we find excellent women candidates?' The answer is a resounding 'yes' – we were fortunate to have many extraordinary female candidates emerge in our national search. But the absolute best candidate, the individual who represents the right fit for Notre Dame at this distinctive time in our history, is Dr. Conneely."
Sister Kathleen Cornell, provincial leader of the Atlantic-Midwest Province of the School Sisters of Notre Dame, echoed the board chair's assessment of the president-elect, noting: "Dr. Conneely demonstrated convincingly that he understands the mission and character of the University and the significance and continuing role of the School Sisters of Notre Dame. He spoke knowledgably about the needs of the University's academic divisions and optimistically about the opportunity to create greater unity across academic divisions. He was passionate in defining the primacy of the student experience, both for those in our undergraduate Women's College, and for the students in our co-ed undergraduate and graduate programs for adults."
In accepting the board of trustees' appointment, Dr. Conneely observed that the foundress of the School Sisters of Notre Dame, Blessed Theresa Gerhardinger, is remembered for her passion to challenge boundaries through her commitment of faith. "She taught us to trust in God's Providence, and to dare to defy the obstacles we encounter," he said. "Today, as Blessed Theresa did in the 19th century, Notre Dame continues to trust in God's divine guidance. We will boldly envision the possibilities for this University in the 21st century."
Dr. Conneely has expressed appreciation for the centrality of Notre Dame's Women's College within its University structure. At Eastern Kentucky, he has been honored as a leader on women's issues on campus, and has been recognized for advancing women into both leadership and non-traditional roles. He and his wife, Becky, who holds a Ph.D. in counselor education and is a lecturer at Eastern Kentucky, have two daughters, Jessica, a first-year student at Converse College, a respected women's college in South Carolina, and Caitlin, who attends Lexington (KY) Catholic High School, where Dr. Conneely serves as chair of the board of trustees.
Dr. Conneely's expertise in student affairs and campus life has been eagerly greeted at Notre Dame. "Dr. Conneely makes it clear that he has a student-centered perspective," said Rachel Jones '13. "We believe his extensive background in student life on campus will enhance the Notre Dame experience for everyone." Board Chair Mitchell praised him for "recognizing that meeting the needs of all students, including adult learners, enhances student engagement and success and creates a more vibrant university community."
When Dr. Conneely visited the Notre Dame campus in early February as a finalist for the presidency, he met in multiple venues with students, faculty, staff, alumni, trustees, donors and members of the School Sisters of Notre Dame. Their assessment of his candidacy was highly enthusiastic. They observed that he is an inspirational leader prepared to take the University into the next bold chapter of innovation and growth.
At the 16,000-student Eastern Kentucky University, Dr. Conneely leads a staff of more than 400 full- and part-time employees and is responsible for all matters related to student and campus life, admissions and financial aid. At Eastern Kentucky, Dr. Conneely has focused on increasing faculty and student involvement in on-campus living/learning programs, establishing an Office for Community Service and Student Engagement that was recognized by USA Today, creating an Office of Multicultural Student Affairs, increasing student use of health and wellness programs, and successfully transitioning to a community policing model.
In addition to his current post, Dr. Conneely has served in student life roles at the University of Arkansas at Fayetteville, Emory University, Villanova University and the University of Northern Iowa. He is an associate professor at Eastern Kentucky, teaching graduate courses in higher education administration.
Dr. Conneely's voice has been prominent in student affairs nationally. He has served as president of the Southern Association for College Student Affairs, chaired the organization's foundation, and served in leadership for the National Association of Student Personnel Administrators. He has published extensively on student affairs issues in relevant journals and has been a presenter at national student affairs conferences.
Dr. Conneely earned a B.A. from St. Bonaventure University, an M.S. in education from Alfred University, and a Ph.D. in higher education administration from Georgia State University. He has attended executive leadership programs at Harvard University and Dartmouth College. His community involvement includes chairing governing boards for two Catholic schools in the Diocese of Lexington. He has served on the board and executive committee of the United Way of the Bluegrass, as chair of the board of United Way of Madison County, Ky., and on boards of the local chapters of the Chamber of Commerce and American Heart Association.
The president-elect will take office on July 1st.
Note: Dr. Conneely's surname is pronounced con-NEAL-e. Biography and high-res photos available online at http://www.ndm.edu
NOTRE DAME OF MARYLAND UNIVERSITY
Notre Dame of Maryland University, founded as a Catholic liberal arts college in 1895 by the School Sisters of Notre Dame, educates nearly 3,000 women and men enrolled in degree and certificate programs at its main campus in north Baltimore and at satellite centers in Maryland. The University encompasses a distinguished Women's College, the first Catholic institution of its kind in America; a College of Adult Undergraduate Studies; a College of Graduate Studies, and an English language Institute, and includes Schools of Arts and Sciences, Education, Nursing and Pharmacy. Rich in tradition, Notre Dame provides students with opportunities in research, study abroad and service to the global community. Visit http://www.ndm.edu.
###