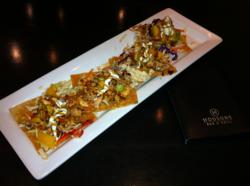 I have been waiting for the Asian Nacho to come back!!! They are my favorite, I'm here almost every other day now..
Centennial, Colorado (PRWEB) February 28, 2012
Hodsons Bar and Grill, an exciting, casual New American restaurant in Denver, is now serving some of their most popular dishes as part of their newly created tavern menu. Offering a tasty selection of small plates for snacking and sharing, the tavern menu is a budget-friendly way to taste some of Hodsons signature creations while enjoying a carefully chosen microbrew or hand-crafted cocktail.
Available from 3 pm – 6 pm, and from 9 pm until close, Hodsons tavern menu includes these popular menu choices for under $7:
Asian Nachos (crispy wonton chips, chicken, avocado, mango, wasabi cream)
Burger and Chips (lettuce, tomato, onion, served with handmade potato chips)
Steak Tacos (white cheddar cheese, pico do gallo, sour cream)
Sliders (mini beef burgers, white cheddar, grilled onions, pickles, stone ground mustard aioli, served with chips)
Diners can also choose from bar food classics such as buffalo wings, fish and chips, onion rings, each prepared with signature flair by Hodsons kitchen. The menu is available in the bar, cocktail lounge and on the patio.
Denver Restaurant Week begins February 25 and runs through March 9. Sponsored by VISIT DENVER, The Convention and Visitor's Bureau, Denver Restaurant Week is a two-week celebration of the burgeoning culinary scene in the Colorado capital. Hodsons is proud to offer a special menu, an unbeatable deal on dinner for two. For the special price of $52.80, two diners can choose from these delicious options: Reserve now before Hodsons sells out.
Shared Appetizers (choose one):
Rotisserie Chicken Lettuce Wraps (Hodsons rotisserie chicken tossed with sweet chili sauce and served with chilled iceberg lettuce and vegetable slaw)
Seared Ahi Tuna (Spiced ahi tuna with daikon radish slaw, wasabi, soy sauce, and pickled ginger)
Entrée (choose two):
12 oz Prime Rib (Slow roasted prime rib served with mashed red potatoes and seasonal vegetables)
Rotisserie Half Chicken (Slow roasted, served with roasted potatoes and seasonal vegetables)
Shrimp and Scallop Risotto (Saffron pine nut risotto and chive oil)
Portabella Napolean (Grilled portabella mushrooms, roasted peppers, basil, goat cheese, herb vinaigrette, toasted almond and spinach quinoa) *gluten free
Shared Dessert (choose one):
Cheesecake of the Day or White Chocolate bread pudding
For more information, visit http://www.hodsonsbarandgrill.com/ or connect with the restaurant on Twitter @hodsonsbargrill. Follow Hodsons on Facebook and Twitter to receive updates and access to special deals.
About Hodsons Bar and Grill:
Hodsons Bar and Grill is a new concept created by Center Restaurant Management Group and its partners and investors. Based in Denver, CO, the group has been in business for over 20 years serving the greater Denver area and the Colorado mountain towns and resorts. It currently owns and operates 14 casual dining restaurants and bars. Some of the other restaurants include: The Dusty Boot Steakhouse and Saloon, Reiver's Bar and Grill in Wash Park, Spanky's Roadhouse on Evans Ave, Kickapoo Tavern in Keystone, and The Whipple Tree in Evergreen, CO, among others.
###