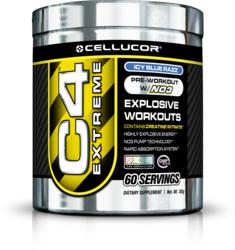 "We're so proud and elated to have broken into the [Bodybuilding.com] Top 10 list, it's an honor." - Cellucor Director of Communications, Daniel Lourenco
Bryan, TX (PRWEB) February 23, 2012
Cellucor announced today on the company's Twitter that their best-selling pre-workout, C4 Extreme, is now a Top 10 selling product on Bodybuilding.com. The announcement comes only a year after the product's official release and is considered a major accomplishment by industry insiders and consumers.
C4 Extreme is a muscle building pre-workout supplement that supports intense training with premier energy, focus and endurance ingredients. C4 Extreme utilizes unmatched NO3 technology, an ultra-efficient fusion of Creatine and Nitric Acid to support blood flow to the muscles, promoting bigger 'muscle pumps' and nutrient delivery, ultimately supporting lean muscle mass gains.
Since the product's January 2011 launch, C4 Extreme has exploded onto the sports nutrition scene, receiving numerous honors, including nominations for the prestigious Pre-Workout Supplement of the Year and Muscle Building Supplement of the Year awards from Bodybuilding.com.
As of today, C4 Extreme has climbed to Number 9 of the top-selling product rankings on Bodybuilding.com, cementing the popular, muscle-building pre-workout as a true category leader. Rankings are based on total unit quantities sold.
Bodybuilding.com is the Internet's most-visited bodybuilding and fitness site and largest online retailer of nutritional supplements. The Bodybuilding.com store sells over 13,000 products in all categories including Muscle Growth, Weight Loss, Exercise Apparel and Accessories and holistic health products.
"Bodybuilding.com is a community of educated supplement consumers, the most loyal fans and sometimes the harshest critics. We're so proud and elated to have broken into the [Bodybuilding.com] Top 10 list, it's an honor," said Cellucor Director of Communications, Daniel Lourenco.
C4 Extreme has risen in popularity steadily since the product's highly anticipated release just over one year ago. The company updated and upgraded the pre-workout last October, bolstering the already explosive formula and introducing two delicious new flavors, Pink Lemonade and Icy Blue Razz.
Cellucor products can be found at GNC, Bodybuilding.com, and select retailers internationally. Visit http://www.Cellucor.com or visit Cellucor's Facebook or Twitter to learn more.
###