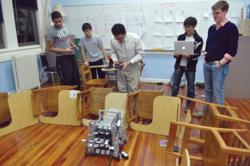 We believe our hard work will result in a good performance at the competition.
Asheville, North Carolina (PRWEB) February 23, 2012
Wander into an Asheville School classroom on most Monday evenings and you'll find a group of enthusiastic students excited to see how they've managed to transform a hunk of metallic parts into their very own robot.
With the help of alumni and faculty support, a small group of dedicated students have organized a FIRST (For Inspiration and Recognition of Science and Technology) Robotics team at Asheville School. Lately, they've been spending their free time prepping for the NC FIRST Robotics Competition (FRC) in Greensboro, NC -- a competition they expect to be very challenging, and which they hope will teach them the skills they will need to win at the national level. The day-long competition begins Saturday morning, February 25 on the campus of NC A&T State University.
After spending the last year and a half studying robotics, junior Ryan Do initiated the club in October and worked with team members to build the team's robot.
"One year of studying paid off, I think," said Do. "I formed the Robotics Club in late October and since then, builders have met every Monday for an hour and a half, and programmers have met every other Saturday."
As Do recalls, the process of starting the club was daunting. "Everything was pretty much challenging," he said. "First of all, we didn't have enough money to order the parts we needed. Therefore, we had to work on raising money at the same time. Since no one in the club had dealt with robotics before, it took us almost a month just to get friendly with robotics parts and programming."
Ian Van Wye, one of the club members new to robotics this year, says he's enjoyed the team atmosphere, but agreed that the process wasn't easy in the beginning. "I enjoyed learning how to operate the robot, though it does come with a steep learning curve," Van Wye said. "Additionally, I appreciate the sense of camaraderie among the members of the club. I feel that we all work very well as an efficient team."
Although he's still learning, Van Wye certainly recognizes the benefits of joining a robotics club. "Personally, I want to improve my ability to think critically in technical situations, and I'd like to become more facile with the technology that will likely define the future of our economy," he said.
Thanks to financial support from the Stonecutter Foundation, the Robotics Club received the funds it needed to send the group into its first competition in 2012.
"Anything that intrigues an inquisitive mind and develops the mind is exciting," said James Cowan '68, president of the Stonecutter Foundation in Spindale, NC. "If these students get inspired by working with electronics, it can lead to career paths that traditional, more conservative liberal arts curriculums don't lead to. This may work with only one out of 1,000 students, but if we can intrigue that one mind, think of what we will achieve."
With the competition slated for Saturday, February 25, the club members are learning the intricacies of controlling their robot, and are practicing for the "big game" with racquet balls, crates and a bowling ball. There are a number of rules to keep the game play challenging.
"They are extremely excited," said Charles Long, Technology Coordinator at Asheville School and the faculty sponsor of the Robotics Club. "I was impressed and had more confidence in their abilities once I saw the finished robot."
Long, who will travel to Greensboro with the team, is anxious to see how the team performs. "They have been faithful to meet and I'm actually learning from them," Long said. "I am taking them to competition and working with John Thorsen, Assistant Head of School for Advancement, to help raise money to support it. We've also had support from math teacher Larry Kollath."
With the robot's construction complete, Do seems confident that his team will perform well at the state level. "I think our robot is one of the best robots in North Carolina," Do said. "Now, everything depends on the controllers. Even though it's our first year, I believe our hard work will result in a good performance at the competition."
Junior Brandon Liang echoes Do's enthusiasm. "To be honest, we can't be more excited. It's really joyful and amazing to actually see our robot work so perfectly after months of effort. Just being able to work and make innovations with my best friends here can simply cheer me up. Besides, robotics has always been one of my dreams. It's fantastic to see your dream come true."
Van Wye too is anxious to see how the Blues robot performs in the grand arena. "I am certainly looking forward to seeing our hard work come to fruition at the upcoming competition," Van Wye said. "I imagine that we are in for a challenge, considering that this is our club's first year in existence, though I am excited to see how our robot performs relative to those of other high schools. The prospect of advancing to the national level competition in St. Louis and representing Asheville School is a significant motivating factor for our team."
To follow the progress of the Robotics Club at Asheville School, visit the club's blog page at http://www.bluesrulenodoubt.wordpress.com.
A nationally acclaimed co-ed college preparatory boarding and day school, Asheville School enrolls approximately 275 students from across the country and overseas. Recent graduates are attending Harvard, Stanford, Columbia, University of Pennsylvania, Cornell, Caltech, UCLA, UNC-Chapel Hill, Davidson, NC State, University of Virginia, Emory, Duke, and Wake Forest, among others.
###