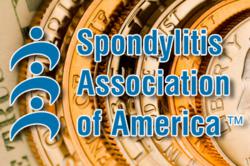 As the only nonprofit serving the needs of the 2.7 million adults in the U.S. affected by spondylitis, SAA is honored to be recognized for our ongoing commitment to accountability, fiscal responsibility and program excellence
Van Nuys, CA (PRWEB) February 28, 2012
The Spondylitis Association of America (SAA) announced today that a recent analysis from personal finance news website MainStreet (http://www.mainstreet.com), also reported on MSN Money, has named SAA as the ninth-highest rated national charity in America.
SAA received a perfect four-star rating from Charity Navigator, America's leading independent charity evaluator, for the third consecutive year in 2011 and a 68.19 out of 70 score for its fiscal performance and operational responsibility, ranking it higher than thousands of other charities in the nation.
In its compilation of highest-rated charities, MainStreet looked at the leading charities in the U.S. based on their 2011 Charity Navigator scores, filtering out organizations that operate only locally and those that work mainly to collect and distribute funds to other charitable organizations.
"As the only nonprofit serving the needs of the 2.7 million adults in the U.S. affected by spondylitis, SAA is honored to be recognized for our ongoing commitment to accountability, fiscal responsibility and program excellence," said Laurie M. Savage, SAA Executive Director and CEO. "We are exceptionally proud of the fact that an organization with only nine employees can achieve the level of impact that we have."
According to the story on Mainstreet, "The Spondylitis Association of America, which targets its efforts at a certain form of arthritis that affects the spine and pelvis, is one of the smallest organizations on the list. With revenue of just more than $1.2 million last year (none of which came from the government), the California-based organization might not be able to dispense funds to all sufferers, but the informational materials it provides in addition to the direct assistance to patients multiply its reach significantly for a disease that is rarely fatal but can have important consequences for mobility and quality of life for those affected by it.
For more information about Charity Navigator scores, visit http://www.charitynavigator.org.
About Ankylosing Spondylitis
Spondylitis is the term used to refer to a group of chronic, inflammatory diseases that generally strike young people between the ages of 15 and 35. Typically, spondylitis causes pain and stiffness and, in the most severe cases, can result in a total fusion of the spine and/or neck, leading to disability. Although spondylitis primarily affects the spine, it is not uncommon for the disease to impact the joints of the shoulders, hips, knees and feet, as well as cause inflammation of the eye. More rarely, because AS is a systemic (whole body) condition, other organs such as the heart and lungs can also become involved.
About the Spondylitis Association of America
The Spondylitis Association of America (SAA) is the only nonprofit organization in the US dedicating all of its resources to improving the lives of people with ankylosing spondylitis and related diseases. Established in 1983, SAA is committed to increasing awareness of spondylitis, providing information and support to patients and their families, and funding the medical research that will someday lead to a cure for the disease.
SAA produces the most comprehensive library of spondylitis resources available in the US -- including books, DVDs, CDs, brochures and other publications; a 1,700-page interactive website, http://www.spondylitis.org; a quarterly, advertising-free news magazine, and a network of nationwide Educational Support Groups to educate and support people living with this chronic illness.
At the forefront of every major milestone achieved in spondylitis education, research and advocacy for over 25 years, you will find the Spondylitis Association of America.
# # #