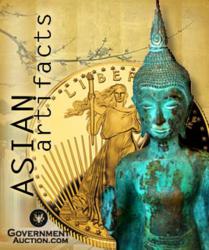 Tehachapi, CA (PRWEB) February 23, 2012
Featured items in this one day auction event include rare Asian artifacts, gold coins, high end fine jewelry, antiques, rolex watches, art prints & oils, cars, sailing boat, sports & Hollywood memorabilia, and collectibles.
A few of the items to be auctioned off on this historic event will be; 1877-CC $20 U.S. Liberty Head Gold Coin, White Jade Bi, Antique Black Wooden Brush Pot, Asian Green Jade Seal, Ladies Rolex Oyster Gold Watch, 18 kt. Gold, 2.80CT Diamond Ring, 1927 U.S. $20 Saint Gaudens Gold Coin, 2007 Lexus GS 350, 447.06CT Ruby & Sterling Silver Necklace, Antique Porcelain Doll, 25 Cent Watling Rol-A-Top Twin Jackpot Slot Machine, 1980 Catalina 30 Sailboat Cruiser/Racer, Rare Early Wood Cash Register, Fully Restored, Towle 'Grand Dunchess' Sterling Silverware Set, 1905 $2.5 U.S. Liberty Head Gold Coin and more.
To view this auction please click the link below
Historic Government Auction - Seized Assets Sale- Saturday, Feb. 11-7:30 AM PST
http://www.liveauctioneers.com/catalog/28280_historic-gov-auction-seized-assets-sale/page1
About Government Auction
Government Auction is a private company, the largest company of its kind to acquire literally thousands of properties and assets. In most cases we acquire these properties and assets at 30% - 50% of actual retail value. This enables potential buyers throughout the world to buy land and invest in assets at discounted pricing.
Contact Info:
Chris Budge
Marketing Representative
Government Auction
Phone: 661-823-1543
###