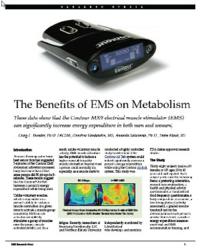 During the Abs Workout, we were able to raise the metabolic level or the quantity of calories burned by 20% during rest.
Minneapolis, MN, February 2012 (PRWEB) February 28, 2012
It could be fantastic if an individual could sit on the sofa, press a start button, and get a great abs workout with 150 ideal abdominal strengthening muscle contractions and improve fat burning capacity by twenty percent.
Not long ago, scientists at Exercising Nutritionally, LLC and Northern Illinois University conducted a highly managed, peer reviewed assessment to figure out if the Contour® Ab Belt would improve a human being's caloric expenditure during rest and practicing the Contour Abdominal Belt workout.
The outcomes of this assessment established that the Contour Ab Exercise Belt considerably heightens a person's caloric expenditure while using the device. The Contour Ab Exercise Belt raised fat burning capacity or caloric burn 20% in both males and ladies during use.
"We have been investigating the Contour Ab Belt to find if there was a variation in the resting metabolic levels or the volume of calories used while using the belt." said researcher, Amanda Salacinski Ph.D. "During the Abs Workout, we were able to raise the metabolic level or the quantity of calories burned by 20% during rest. To my knowledge, there is no other work out product or service out there that you can gain those type of results. It was extraordinary. I had never worked with a product or service comparable to this. It is totally what everyone is searching for. You'll be burning far more calories even though you're lounging around by wearing the ab belt and also strengthening muscle at the same time."
More than 1 million health fans in the US have decided to turn to the Contour Ab Exercise Belt program to achieve firmer more powerful abs. The secret behind the Contour Ab Belt is electrical muscle stimulation (EMS) technological innovation, a clinically-confirmed medical technology that isolates and delivers stimulating signals instantly to your abs… automatically contracting, and flexing all core muscle groups so you obtain stronger toned 6 pack abs.
About Contour Technology, LLC
Contour Technology with head offices in Minneapolis, Minnesota is the foremost leader in the rapidly expanding world of electronic muscle stimulation technology (EMS) for the Ab Workout industry. The firm concentrates in the design, manufacturing and distribution of progressive pioneering EMS Abdominal Workout Exercises products meant to help exercise enthusiasts to strengthen and firm their abdominal muscle groups and workout more proficiently. In addition, the firm offers items for muscle and back strain relief and muscle fiber recuperation. For more information and to review a copy of the research document visit our web site at http://www.thecontour.com.
About Exercising Nutritionally, LLC
Established in 1984, Exercising Nutritionally, LLC is a private consultancy that focuses on the exploration and improvement of new technologies and means concerning a person's health. In 2010, the organization incorporated and is centered around growing the company into a preventive health wellness research company. The firm continues to develop its sway and coordinates investigative projects with areas and organizations around the United States, Italy, and New Zealand. Dr. Craig Broeder is the CEO of Exercising Nutritionally, LLC.
Amanda Salacinski, Ph.D.
Professor of Exercise Physiology, Northern Illinois University
###