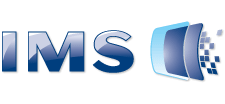 Today, IMS is able to offer value-added integrated labelling services as well as an outstanding customer service.
Montréal, Quebec (PRWEB) February 24, 2012
The product identification specialist IMS Inc., previously known as Industrial Marking Systems, would like to announce that it has changed its name to Identification Multi Solutions Inc. Known within the industry mostly by its acronym, the company chose a name that would allow it to maintain the excellent reputation inspired by the abbreviation IMS for over 50 years.
"Our name no longer reflects the company's activities," stated Mr. Jean Éthier, President of Identification Multi Solutions Inc. "Our various marking products have been replaced by technology like barcode data capture, label printers and product identification, of both the brand and for product traceability in warehouse distribution. Today, IMS is able to offer value-added integrated identification solutions as well as an outstanding customer service."
Determined to enhance its activities through its new name, IMS has decided to modify the words forming its acronym so that it would better reflect the progress it has made since its founding in 1958. Specialized in labelling systems, IMS was able to evolve with the advances in product identification, to penetrate the Ontario market and to refine its operations, all while using state-of-the-art technologies that have characterized the last decades. IMS has also added the production of shrink sleeves to the services it offers.
Moreover, although already known in the industry for its professionalism and reliability, IMS would also like to consolidate its position as leader in identification solutions. For further information concerning IMS's products and services, please consult its website at http://www.imsinc.ca/en.
About IMS Inc. – For over 50 years Identification Multi Solutions Inc. has offered labelling solutions perfectly adapted to the needs of its clientele. As product identification leader and specialist in barcode technology, IMS offers a wide range of services including label printing and application, shrink sleeve production, sale and maintenance of printers and applicators, as well as data capture solutions.
###