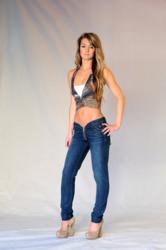 My current designs are sexy and edgy and meant to compliment the female figure.
Yorba Linda, CA (PRWEB) February 24, 2012
Fashion designer Patti V has announced the official launch of her new line of designer denim, along with special introductory pricing and free shipping until March 5, 2012.
The Patti V line caters to young women (18 – 29) who are confident and not afraid to turn heads. The company's signature product is their Original V Jean, a stylish and sophisticated alternative to traditions jeans. The V Jean features a plunging V shaped waistline front and back. The result is a sexy and sophisticated look that is truly unique. This line also includes a V Zipper version which features a closed back as well as fully functional side zippers up both legs for a fashionable, chic look.
"I've always had a passion for fashion," says the brands designer Patti V. "The inspiration for the V Jean came after years of always seeing the same old jeans. I wanted something different so I decided to make it myself," Patti V adds. "My current designs are sexy and edgy and meant to compliment the female figure," Patti V continues.
At its launch the Patti V line includes seven products made up of jeans, skirts, and shorts available in different styles and colors, each with the Patti V Signature V waistline. Each product is made of premium denim and made in the USA. Soon to come will be a line of Women's tops and casual wear, as well as a line of jeans for men. "We're really excited about the new line and plan to expand it in the months to come. Starting April 15, 2012 our new V Curve jean will be available. The V Curve sports a sweetheart curved front and back with zippers in front and back as well. We've also frayed the back pockets for an overall sassy, fun, yet sexy look," Patt V explains.
Despite launching a new company in a down economy, Patti V is already catching the attention of key industry buyers who have stated that everything they thought could be done with denim had already been done, until now. Wanting something new, Patti V was started with the hopes of creating a niche market. By the looks of things Patti V is doing just that.
Patti V is currently available exclusively on the company's website at http://www.pattiv.com.
For more information on the PATTI V, please visit http://www.pattiv.com.
###