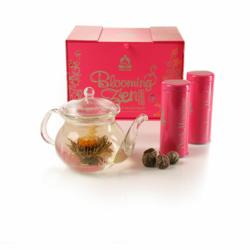 Teavana's Spring Tea Accessories feature bright colors and functional designs.
Atlanta, GA (PRWEB) February 27, 2012
Teavana, known for procuring the world's finest loose leaf tea, launches new tea accessories on February 27th to celebrate Spring's imminent arrival. From gift sets to beautiful teapots to new tea cup options and more, the Spring collection features bright colors on functional teawares to make everyday tea brewing even more enjoyable.
The Butterfly cast iron teapot is a great example of Spring teawares. Available in a bright blue, green, or black color with silver accents, this Japanese teapot celebrates the season with Butterflies and blooming flowers. A quality cast iron teapot heats evenly, resulting in a full-flavored cup of tea and this teapot is no exception.
Floral teas also celebrate Spring! The Blooming Zen Tea Collection features two blooming teas, a glass teapot to watch them bloom and two tins to keep the tea fresh for up to a year. Featuring Strawberry Misaki blooming tea and Peach Momotaro blooming tea, this gift set will delight as the teas bloom to result in a delicious fruity tea for your cup!
When steeping Spring teas, the new blue Tea Infusion Pitcher is a great tea accessory. It brews up to 24oz of tea, perfect for a pitcher. Cherry-scented Sakura Allure green tea or soothing Peach Tranquility herbal tea are a good choice for the perfect Spring iced tea.
For a favorite tea, Yixing Travel Tumblers and the new Tea Icon Tins are two tea accessories that combine well. Each features the Teavana symbols for various tea types: white, green, oolong, and black. The white tea Icon tin could be used for Lavender Dreams, for example, and the white tea Yixing Travel Tumbler steeps it on the go. The Yixing clay soaks up the flavors of tea to make each cup a little more delicious than the last.
During Spring, Teavana stores will offer samples of a new tea blend made with Jasmine Dragon Phoenix Pearls green tea and Peach Tranquility herbal tea. These teas will also be featured during the season along with Peach Momotaro blooming white tea, Lavender Dreams white tea, Citrus Lavender Sage herbal tea and Sakura Allure green tea. Any of these six teas are a great choice during Spring.
These are just a few of the new items and floral teas that reinforce the joy of the Spring season as it arrives. Stop by your local Teavana store or shop for tea online at Teavana.com to see the full collection of Spring teas and tea accessories.
Atlanta-based Teavana first opened in 1997 with the name meaning 'Heaven of Tea'. The specialty stores are part retail shop and part tea emporium with over 100 different selections of loose-leaf tea from all over the world. The company donates 1 percent of tea profits to CARE® (http://www.care.org), which goes to improve the lives of those who live in tea-producing areas of the world through education, access to safe water and greater economic opportunities. Teavana currently has over 200 store locations in North America.
###