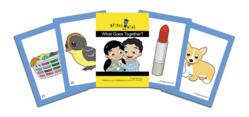 New York, New York (PRWEB) February 25, 2012
Adding to its current set of four Skill Builder Card Packs, test preparation company, Bright Kids, is excited to expand its collection in March 2012. The two new decks, Describe That Word! and What's Silly? are great resources to start inquiry and provide parents with an idea of how to coach children to answer these types of questions. The card decks can be used with children ages two through five, and the level of difficulty of each card deck increases as one works throughout the deck. Describe That Word! supports children preparing for either the Stanford-Binet or ERB-WPPSI-III exams, while What's Silly? is geared towards Stanford-Binet test preparation.
Describe That Word! comes with twenty-five vocabulary cards spread across two levels of difficulty. Level 1 is the right fit for younger children and includes describing basic vocabulary, such as "apple" and "book." Level 2 is more challenging and meant for children ages four and five. The vocabulary in this section is not only more advanced than the Level 1 materials, but is a bit more complicated due to it being abstract or multi-meaning. Examples of Level 2 words include "scooter" or "letter."
To use Describe That Word! parents will hold up a card for a child to see. The child will identify the picture and describe the objects in question. The more descriptive the child's answer, the more points he/she can earn. Directions are included on how to score a child's answer with 0, 1, or 2 points. This scoring system will allow parents to understand what types of answers Stanford-Binet psychologists are looking for during this assessment.
Answering the What's Silly? questions are twofold. With this activity, children look at a picture scene and must identify an absurd object or action. Next children must explain why that thing is absurd. An example of a picture a child may see is a chef making soup with a baseball bat. The scoring system is fairly simple; children either arrive at a right or wrong answer. An answer key is provided for parents to guide parents along the way.
Children and parents will enjoy laughing and playing with these cards. "These card games are a fun and low-stress way to introduce your child to some of the core concepts he/she will need to be successful on various admissions exams, as well as in the elementary school classroom!" says Linda Fung, the In-House Designer for Bright Kids. "The decks are small, so parents can easily carry them in their purse or backpack."
These cards can be found on Bright Kid's website http://www.brightkidsnyc.com. Additionally, parents can purchase cards directly at Bright Kids Headquarters or place an order over the phone: 917-539-4575. Discounts are given for parents buying combination package of card decks.
###