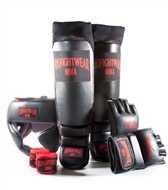 "Our gear performs when it matters – in the heat of battle…"
Tucson, AZ (PRWEB) February 24, 2012
Until a few years ago, when people thought of warrior sports, traditional martial arts like Karate and Taekwondo would come to mind. There might be the occasional classic Jean Claude van Damme movie reference, but Mixed Martial Arts (MMA) would almost certainly be left out of the conversation. However, as evidenced by the expansion of UFC into prime-time television, it's clear that MMA has become ubiquitous with mainstream America.
Despite the rapid growth of the industry, the quality of service and durability of products has not kept up with its avid fan base. Large businesses trying to capitalize on the popularity of the sport rushed in with their flashy equipment and uneducated salespeople, leaving interested fans with inadequate, poor-quality equipment.
Thankfully, there is a base of dedicated, passionate MMA industry pioneers who are trying to change that. Andre Fasciola is one of those pioneers. A twenty-year veteran of the martial arts scene, Fasciola acquired Rio Fightwear in 2010 to combine his passion for warrior sports with his background in research & development. His goal? To bring professionalism and quality to a rapidly growing fan base in need of a better experience.
"We acquired Rio Fightwear because we wanted to create gear that not only inspired us to honor the sport, but to develop practical, functional gear that would be offered at reasonable prices," explained Fasciola. "I knew we could do better than what was out there."
Now, after considerable research, product testing, and feedback from MMA enthusiasts, Rio Fightwear has launched a line of MMA gear designed to outperform industry competitors' products.
"Our gear performs when it matters – in the heat of battle… We are lucky to have such a dedicated stable of fighters, customers, and designers that constantly send in suggestions about how to improve our gear. Really, it's gear built by the people," continued Fasciola.
The close relationship Rio Fightwear has with its customers is what allows them to continuously improve their product line. Through both direct communication and interactions on their Facebook page, they have been able to utilize the interactive capabilities of social media and the Internet to gather valuable feedback.
"Social media has been of tremendous value to our brand, as you get instant feedback, both positive and negative. Many design changes come from suggestions sent to us…" Andre explained. "You throw away what does not work, and what remains evolves into better and better gear."
Rio Fightwear's newest line of products is the result of heaps of consumer feedback. From fight and hybrid gloves to protective head gear and instep guards, their new products are a perfect blend of functionality and practicality. It is designed to maximize performance while still being durable when taking a consistent beating.
Rio Fightwear's new product line is available on their website, http://www.RioFightWear.com.
As the industry continues to expand, it will become increasingly important for companies to provide high-quality products that allow fighters to perform at optimum levels, while keeping them safe at the same time. The popularity of warrior sports is only increasing, and organizing and legitimizing the industry is an important step for customers and manufacturers. Companies like Rio Fightwear involving customers and working to adapt and improve the quality of products represents the future of the MMA industry.
###