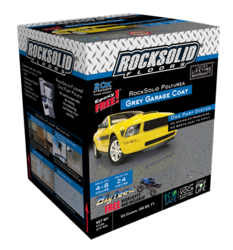 "Words cannot express how honored we are to receive such high praise from such a distinguished organization," said Patrick Ilfrey, CEO of RockSolid Floors®. "Or how much we appreciate the commitment of the Handyman Club's testers."
Minneapolis, MN (PRWEB) February 24, 2012
After extensive testing by its members, the Handyman Club of America has awarded the RockSolid Floors® Polyurea Garage Coat®, the world's first DIY polyurea floor coating, a 100% approval rating from its Member-Tested Program. Now able to carry their Seal of Approval, customers can rest assured that when they use the Polyurea Garage Coat®, they are using one of the most convenient and durable floor coatings on the market.
For years the Handyman Club of America's Member-Testing Program has evaluated a wide variety of home improvement products. Members test them in their own homes and rate them on general quality, design, performance, durability, clarity of instructional material, versatility, finished look and value. The testers then provide an overall approval rating, which is then featured on their web site and in HANDY® Magazine, the club's official publication.
"Words cannot express how honored we are to receive such high praise from such a distinguished organization," said Patrick Ilfrey, CEO of RockSolid Floors®. "Or how much we appreciate the commitment of the Handyman Club's testers."
The RockSolid Polyurea Garage Coat® is part of the RockSolid Floors® One Part Polyurea series, the first industrial grade polyurea floor coating ever available in the DIY market. This never-before-seen polyurea technology has a virtually unlimited pot-life, while having a 4 to 8 hour cure rate and 24 hour return to service. This gave the club's testers all the time in the world to finish their projects and prevented any waste. It's 20 times stronger and 98% more flexible than epoxy floor paints, so the Polyurea Garage Coat® won't crack or peel, and resists salt, oil, gas and other harsh chemicals.
"It adds life to your old floor and makes it appear as though it was brand new," said James Bell, one of the Handyman Club's testers. "It has only been installed for about a week, but with the recent rain, the water beads up as it would on a freshly stained deck… This is something that any DIY who can read and watch a DVD can install."
The full results will be published in HANDY® Magazine's April / May 2012 issue and made available online at http://www.HandymanClub.com.
About RockSolid Floors®
RockSolid Floors® is an affiliate company of Citadel Polyurea Coatings®, launched in January 2008. Citadel Polyurea Coatings®, a leading manufacturer of polyurea floor coatings, evolved over 40 years from a mid-size installation company into the leader in one-day polyurea floor applications. Headquartered in Minneapolis, MN, they began with foundation and horizontal pre-cast waterproofing, concrete restoration and polishing, as well as steel and bridge deck coatings. Their focus later shifted to engineering advanced polyurea floor coatings.
Citadel Polyurea Coatings'® manufacturing division has been developing and applying polyurea coatings for over 25 years on a large variety of substrates. They are widely known for manufacturing and installing polyurea floor coatings everywhere from residential garages to commercial kitchens to warehouse facilities. The collective practice gives them over 65 years of experience in the coating industry.
For more information about RockSolid Floors® http://www.RockSolidFloors.com or contact Mike McAllister at mike(at)rocksolidfloors(dot)com. 866-802-3369
# # #