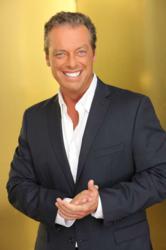 "We're psyched to be hosting what is probably the most entertaining and iconic TV game show in history, and to bring our guests the opportunity to win those amazing showcase prizes," said Seminole Casino Coconut Creek President Steve Bonner.
Coconut Creek, Florida (PRWEB) February 24, 2012
Fans can "come on down" to The Price Is Right Live™ in The Pavilion at Seminole Casino Coconut Creek on Thursday, March 1 where it was announced it will begin an eight-week run. The acclaimed live version of America's favorite and longest-running TV game show will be hosted by TV personality Todd Newton.
Through Thursday, April 29 matinees will be held on Saturdays and Sundays at 2 p.m., with 7 p.m. shows on Wednesdays, Thursdays and Fridays. There is no age requirement for ticketholders, though contestants must be 21 or older. General admission tickets can be purchased starting at $25 at http://www.ticketmaster.com.
The traveling show by FremantleMedia, which also produces "The Price Is Right," "The X Factor" and other TV shows, features classic fan-favorite games including Plinko, Cliff Hangers, The Big Wheel, and Showcase Showdown. Since 2004, one million fans have seen The Price Is Right Live, during which time more than $10 million in cash and prizes have been given away. The show recently completed two successful runs at The Palace Theater at Bally's Atlantic City.
"We're psyched to be hosting what is probably the most entertaining and iconic TV game show in history, and to bring our guests the opportunity to win those amazing showcase prizes," said Seminole Casino Coconut Creek President Steve Bonner.
The Pavilion is a 1,200-seat entertainment venue that opened on Feb. 2 as part of the casino's $150 million expansion. Numerous concerts have already been held in it, including Foreigner, Blue Oyster Cult and The Orchestra.
The Price Is Right Live host, Todd Newton, is well-known to television audiences for his work as host on E! Entertainment Television. For nearly a decade, he provided an all-access pass to red carpet events, movie premieres, behind-the-scenes of TV shows and celebrity interviews. Newton has hosted "Hollywood Showdown," "Whammy!: The All-New Press Your Luck," "Gameshow Marathon," and "Instant Millionaire," and is currently the host of "Family Game Night" on The Hub, for which he was nominated for an Emmy Award for Outstanding Game Show Host. Todd Newton has won over fans everywhere with his exuberant personality and high-quality showmanship as host of The Price is Right Live.
As host of TV's "Supermarket Sweep" for more than a decade, The Price Is Right Live announcer, David Ruprecht, is a familiar face to all who is instantly recognized and warmly received wherever he goes. He's been seen in the more than 50 sitcoms and dramas in which he has guest starred, including "Cold Case," "Joan of Arcadia," "Days of Our Lives" and "Three's Company."
About FremantleMedia North America
FremantleMedia North America (FMNA) is the U.S. production division of global media giant FremantleMedia. Based in Burbank, California, FMNA produces entertaining and innovative programs for network, cable, syndicated and online platforms, including the Emmy-nominated musical/reality phenomenon "American Idol" (FOX), "America's Got Talent" (NBC), "Hole in the Wall" (Cartoon Network), "Let's Make a Deal" (CBS), "Family Feud", "The Price Is Right" (CBS) and The X Factor (FOX).
About FremantleMedia Enterprises & FremantleMedia
FremantleMedia is one of the leading creators and producers of entertainment brands in the world. FremantleMedia is part of the RTL Group, Europe's largest television and radio broadcast company, which is in turn 90 percent owned by Bertelsmann AG, one of the world's major media and entertainment companies. FremantleMedia's worldwide production arm is responsible for many of the world's highest rated prime time entertainment, drama, serial drama and factual entertainment programmes. FremantleMedia Enterprises is the brand extension arm of FremantleMedia, offering a one-stop-shop for all Licensing, Distribution and Home Entertainment around the world. The FremantleMedia Group (which includes FremantleMedia North America, UFA, talkbackTHAMES, FremantleMedia Australia and Original Productions amongst others) has operations in 22 countries, one of the most comprehensive global networks, creating nearly 10,000 hours of programming a year, rolling out more than 60 formats and managing over 300 individual titles. FremantleMedia has some of the world's most sought after and long running formats in its catalogue, and globally, produces such programmes as: Idols (co-produced with 19 Productions in the US), Hole In The Wall, Got Talent (co-produced with Syco in the UK and the US), The X Factor (co-produced with Syco in the UK), Take Me Out, Family Feud, The Price is Right, Farmer Wants A Wife, Gute Zeiten Schlechte Zeiten, and Neighbours.
About Seminole Casino Coconut Creek
Open 24 hours a day, 365 days a year, Seminole Casino Coconut Creek has completed a $150 million expansion with a 100,000-square-foot gaming floor, the non-smoking, well-appointed Stax Poker Lounge located on the second floor, and three new restaurants, the upscale NYY Steak, the spectacular flavors of Italy in Sorrisi Italian Restaurant, and the New York-style 1st Street Deli. NYY Steak is open daily 5 p.m.-11 p.m. (closed Tuesdays and Wednesdays). Sorrisi Italian Restaurant is open daily 5 p.m. – 11 p.m. (closed Sundays and Mondays). 1st Street Deli is open every day from 11 a.m. – 11 p.m.
5,700 square feet of retail shops are located on the first floor courtyard of the new 2,400-space LEED Silver Certification-registered parking garage. On the south side of the state-of-the-art green garage there is a convenient transportation hub consisting of a large charter bus service lounge for the comfort of guests, a valet station, and a guest vestibule. Other amenities in the expanded casino include a new Player's Club and a High-Limit gaming area. The new Player's Club features revolutionary electronic guest interaction technology that eliminates guest waiting lines and immediately immerses players in the casino's action. Conveniently located just inside the new northwest area of the casino, Seminole Casino Coconut Creek Player's Club is the very first of its kind in the United States and is expected to completely change the guest service experience as the casino industry knows it today. The upscale High-Limit action area with its own bar/lounge is located in the center of the greatly-enlarged casino, containing 12 high-limit table games and more than 60 high-limit slot machines. Adjacent to the High-Limit, there is an attractive new casino promotions staging area. As part of the expansion project, The Site casino sprung structure building was converted into an intimate, new 1,200-seat show venue. Casino Coconut Creek development plans are being coordinated with, and incorporated in, the city of Coconut Creek's MainStreet development.
Named the "Best Place to Gamble" by Broward-Palm Beach New Times, Seminole Casino Coconut Creek currently offers more than 2,300 of the latest and greatest slot machines including Las Vegas-style slots. The casino now has a non-smoking area as a result of its recent floor expansion. Two of the most popular games are The Hangover and Leprechaun Gold. Some of the most popular progressive slot machine titles are Ghost Busters, Diamond Jackpots, Vegas Paradise, Monopoly Big Event, Wizard of Oz and Slingo Bonus. Denominations range from one cent to $100. The casino now offers 65 table games including live blackjack, baccarat, and popular novelty games such as pai gow poker. It features 24/7 high stakes no-limit action in its Stax Poker Lounge, with a wide array of tournaments for all types of players. Live poker games include Texas Hold 'em, 7-Card Stud, and Omaha tournaments with buy-ins from $85 to more than $1,000.
In 2007, Seminole Casino Coconut Creek underwent its first major expansion of approximately $32 million, which added the marketplace-style Fresh Harvest restaurant, named "Best Buffet By Far" in the South Florida Sun-Sentinel, as well as the Nectar lounge and outdoor Sunset Grill, both with live nightly entertainment. Fresh Harvest is open 7 a.m. – 10 p.m. daily (closes only at 8 p.m. on Sunday). Sunset Grill is open 24/7 365 days a year. The Sushi Bar in Nectar Lounge is open 8 p.m. – 2 a.m. Thursday through Saturday. Seminole Casino Coconut Creek is located just east of State Road 7 (U.S. 441) and north of Sample Road at 5550 NW 40th Street. For more information call 954-977-6700, visit online at http://www.seminolecasinococonutcreek.com. Follow on Twitter: @SCCoconutCreek, #funyou, #CocoGO2012, or on Facebook: http://www.facebook.com/seminolecasinococonutcreek.
# # #