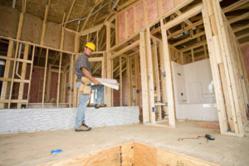 The article series takes a look at simple steps that companies overlook when shopping for Contractors Insurance. Are there areas where small businesses can fix to save on their insurance for contractors. The article series will share inside secrets from
Tampa, FL (PRWEB) February 25, 2012
Contractors1stInsurance.com has released a series of resources that outline what insurance carriers look at when calculating a small business premium amount.
Contractors1stInsurance.com is releasing a series of articles to help Contractors and Small Business owners reduce their risk management cost when shopping for General Liability Insurance, Workers Compensation Insurance, or other Contractor Insurance. The articles will discuss topics from rating factors to negotiating an affordable premium.
The director of New Business Development at Contractors1stInsurance.com stated, "The article series takes a look at simple steps that companies overlook when shopping for Contractors Insurance. Are there areas where small businesses can fix to save on their insurance for contractors. The article series will share inside secrets from a insurance industry insider, with over 30 years of experience, on how to shrink insurance costs."
Along with the new article series contractors can find news, tips and information about Contractor Insurance. Find the information that every small business owners needs to know in order to lower insurance costs.
Contractors1stInsurance.com, located in Tampa, FL, provides Workers Compensation, Contractor Liability Insurance, Contractor Bond, and Employee Leasing solutions to 46 states including Florida, Texas, Arizona, Colorado, California, Illinois, Nevada, and Louisiana. Reach Contractors1stInsurance.com agents by phone at -800-253-7040.
###