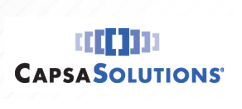 As a leading provider of storage and mobility solutions for healthcare, it is a natural evolution of our computer cart line to add the AC-based LX20 and VX30 to our portfolio."
Columbus, OH (PRWEB) February 23, 2012
Capsa Solutions, a leading provider of computer and storage cart products for healthcare facilities, today unveiled their new LX20 Laptop Cart and VX30 Workstation at the HIMSS12 Conference and Exposition in Las Vegas.
The new AC power platform on the LX20 and VX30 models defines a new level of universal compatibility for hardware used to mobilize electronic health records in all types of healthcare environments. "By adding these products to our computer cart line, Capsa has added the perfect complement to our non-powered and efficient DC powered cart models to meet the varied and unique preferences of healthcare providers," stated Dave Burns, CEO of Capsa Solutions. "Adding the LX20 and VX30 models permits a health IT program to standardize on a common computer cart platform, but use a variety of cart and hardware types throughout the facility."
Today, healthcare providers are spreading point of care computing across multiple areas of each facility to improve information sharing and clinical workflow efficiency. According to Scott Salmon, Vice President of Marketing, Capsa's line of mobile computing carts is applicable to almost any care setting. "As a leading provider of storage and mobility solutions for healthcare, it is a natural evolution of our computer cart line to add the AC-based LX20 and VX30 to our portfolio." Salmon added, "We listened to the market and noticed a growing need to give the health IT department a level of flexibility across multiple computer cart types. Whether a simple laptop cart or a full-featured workstation with configurable storage drawers, Capsa can now provide multiple healthcare disciplines and care environments a versatile, standardized choice."
At HIMSS12 – Las Vegas, Capsa will have its full line of healthcare computer carts on exhibit for review by over 10,000 convention attendees. Eric Webb, SVP – Engineering stated, "This is only the beginning of our product line evolution. Over the next several months, we will continue to introduce advances in point of care solutions for healthcare providers." Webb continued, "It is becoming evident that healthcare providers are paying attention to Capsa, and they consistently tell us why they want us to be part of their health IT programs. That's very rewarding to hear, and it drives us to listen closely and design what they are asking for."
The LX20 and VX30 represent only a portion of Capsa's mobile computer cart offering. The product line ranges from non-powered laptop carts, to powered computer workstations, to fully-integrated medication carts. Flexible configurations and the ability to accommodate an array of computing hardware ideally position these products for a host of facility types including long-term care, ambulatory, and hospital care settings.
About Capsa Solutions
Capsa Solutions is a worldwide leader in developing innovative products to mobilize the healthcare clinical and medication control processes. With combined product lines that include medication carts, medical carts, computer carts, and processing solutions, Capsa Solutions offers its markets decades of experience and a unique ability to meet the demands of diverse healthcare environments. Headquartered in Columbus, Ohio, Capsa Solutions has an additional manufacturing and distribution facility in Los Angeles.
To learn more, visit http://www.capsasolutions.com or call 800-437-6633.
###