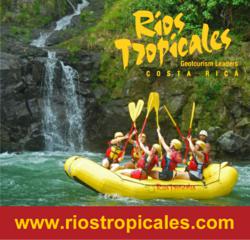 After our four-day shoot on the Pacuare River. Thank you Angie, Albert, Jose and Raphael! I can't wait to tell everyone about how great Rios Tropicales is.
Gaylon Wampler Feb. 17, 2011
San Jose, Costa Rica (PRWEB) February 25, 2012
There are two ways to access Rios Tropicales Lodge, via rafting or kayaking this Class III-IV river or hiking in along a private trail. This ultimate adventure playground is hosted by qualified river guides that not only work as a team with paddlers maneuvering rafts through this impressive natural corridor, but also cook unforgettable meals.
Multi day trips include: professional bilingual guides, high quality rafting gear, comprehensive paddling and safety instruction, transportation to and from San Jose, all meals at Rios Tropicales Operations Center and Rios Tropicales Lodge, plus the added value adventure activities at the Lodge and jungle surroundings and El Tigre nearby community.
What started as a campsite back in 1989 has developed into a genuine Eco lodge with accommodations that go from luxury rooms to rustic bunkhouses on the hillside with views to jungle, streams and the Pacuare River. The "icing on the cake" comes on the last day paddling the Pacuare gorge, which will exceed anyone's dreams about running this ultimate tropical whitewater section.
Ríos Tropicales, a top of the notch whitewater outfitter, has been taking adventure travelers to the Pacuare and all Costa Rican rivers and coasts since 1985. "Why do we do this? Because we love it, it's our passion and way of life. A strong conviction to professionalism, high quality, safety and extraordinary service; combined with the originality of Latin American culture and conservation values, has proved to be a good formula for well being and the communities involved," said Rios Tropicales founders Rafa Gallo & Fernando Esquivel last October when Costa Rica 2011 World Rafting Championship, the third one held in Costa Rica in the last 20 years!
A good definition of sustainable-tourism progress is a symbiosis with Mother Nature and economic well being. Rios Tropicales operates other paddling and adventure trips in different outposts throughout Costa Rica.
###