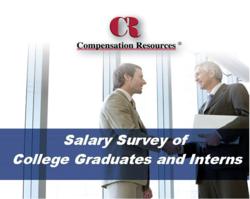 Upper Saddle River, NJ (PRWEB) February 24, 2012
Compensation Resources, Inc. (CRI) is pleased to announce that participation is now open for the 2012 Salary Survey of College Graduates and Interns. This survey is targeted to the general industry, and is designed to report the starting salaries companies are offering to this year's graduates of college and post-graduate studies, along with rates for interns. We are inviting all organizations to take part in this survey.
This survey includes salary data for college graduates and interns in the following majors:

Agriculture and Forestry
Arts, Language, and Literature
Business, Finance, and Math
Computers and Web Related
Education
Fine and Performing Arts
Marketing, Public Relations, and Communications
Medical and Health Related
Religious Studies
Retail and Merchandising
Science, Engineering, and Architecture
Social Sciences
Trades and Technical
Other
For the college graduate portion, each individual major is separated by the degree they earned (Associate's, Bachelor's, Master's, and Doctorate).
For the intern portion, each individual major is separated by the college year they completed (Freshman, Sophmore, Junior, and Senior).
Participant information will be represented in a format that will enable users to ascertain market values of compensation for entry level positions targeted to recent graduates. CRI will share the results of this survey to all participating employers, free of charge. Non-participants may purchase the survey for $110.
If you would like to participate, please visit the website at http://www.CompensationResources.com. For more information regarding this or any of CRI's surveys, please contact Andy Sellers, Manager of Surveys, at (201) 934-0505 x115.
About Compensation Resources, Inc. (CRI): CRI provides compensation and human resource consulting services to mid and small cap public companies, private, family-owned, and closely held firms, as well as not-for-profit organizations. CRI specializes in executive compensation, sales compensation, pay-for-performance and incentive compensation, performance management programs, expert witness services, and custom surveys.
###