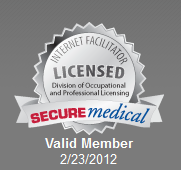 Legitimate service, genuine medical advice, and FDA-approved pharmaceuticals are the standards of ApexRx.com.
Tempe, AZ (PRWEB) February 24, 2012
ApexRx.com, a trusted source for erectile dysfunction medications, hair loss treatments, and sensual lubricants, is licensed by the state of Utah as an official facilitator of FDA-approved genuine Viagra, Cialis, Levitra, and Propecia. ApexRx.com is one of only a couple companies to receive official state approval to distribute these medications online.
ApexRx.com received approval from The Utah Division of Occupational and Professional Licensing (DOPL) to facilitate the distribution of these medications. The process involves a detailed and thorough review of medical information from a Utah-licensed physician who approves the patient's medical information, which is submitted online.
The medical information review process also assists the physician in recommending the safest and most effective drug choice for each patient, with consideration being made for possible drug interactions and each patient's treatment needs.
Information is kept safe and secure by the use of a complex system of proprietary software, all of which is protected by the latest data encryption technology. ApexRx.com places the highest importance on confidence in its consumers and patient privacy.
ApexRx.com's approval from Utah's DOPL means a vast difference in the quality of service compared to all other online drug distributors. Legitimate service, genuine medical advice, and FDA-approved pharmaceuticals are the standards of ApexRx.com, while any other online resource entails delving into areas of risk to personal health and questionable legality.
Orders are fulfilled quickly and efficiently through the Utah-based pharmacy, and ApexRx.com customer care representatives are on stand-by in Tempe, Arizona. The customer care office is ready to offer support for any patient questions or concerns. Professional assistance is available at 1-800-716-8440 on Monday through Wednesday from 5am to 8pm, Thursday and Friday from 5am to 7pm, Saturday from 6am to 5pm, and Sunday from 8am to 4pm, MST.
More information can be found at ApexRx.com. The site offers a full list of available pharmaceuticals to its patients, as well as a blog offering news and information on telemedicine.
###