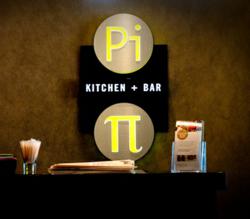 Denver, Colorado (PRWEB) February 27, 2012
PI Kitchen + Bar Restaurant in Downtown Denver is coming full circle with delectable delights in preparation of Denver's Restaurant Week 2012. Conveniently located on the corner of 14th and Welton across from the Denver Convention Center inside the Hilton Garden Inn Hotel Denver Downtown, PI is well known for its fusion fare and generous portions. Offering an intellectual curve on the urban scene, this downtown Denver restaurant offers geek chic décor in a metropolitan atmosphere. PI Kitchen + Bar Offers a "Global Fusion" style of food preparation combining traditional favorites with Asian, American, and Southwest influences.
The Denver Restaurant Week menu from PI Kitchen + Bar offers delicious entrée's such as Caldo de Pollo with green chili and avocado, Asian Napa Salad with crispy noodles and peanut red curry dressing to Bison Meatloaf and Grilled Mahi with coconut jasmine rice and ginger.
While circumnavigating the many restaurants during Denver Restaurant Week remember that PI Kitchen + Bar Restaurant in downtown Denver won't disappoint culinary curiosity and is sure to prompt a round of applause and a full 360 when the need arises for a future downtown dining spot for business or pleasure. And remember: All PI Kitchen + Bar Guests Receive Free Valet Parking.
###