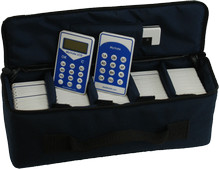 Every product needs to have a user in mind when it is designed and developed. Meridia designed the MyVOTE products for trainers who require simplicity, portability and accuracy
(PRWEB) February 25, 2012
The MyVOTE training and education tools are now available for purchase to US corporate trainers, human resource directors, and learning managers through Meridia Audience Response's website and sales team.
The MyVOTE Response System is a new tool designed to encourage classroom interactivity and increase participant content retention for all instructor led training programs. Through the use of participant handsets called MyVOTE keypads, individuals are able to respond to instructor created questions in real time. The training content can be displayed in PowerPoint, or by using a specific Meridia training game title, or via any medium visible to a group of learners. After a training class responds to a question using the MyVOTE keypads, the results are displayed back to the class in graphical form which allows instructors to discuss the results and use the system as an electronic testing tool.
The MyVOTE products allow Meridia to tailor their interactive solutions specifically to the training and continued education markets." Every product needs to have a user in mind when it is designed and developed. Meridia designed the MyVOTE products because the professional grade keypads used for large staging events and audio visual rental simply did not offer trainers the portability or price point they require in the safety and professional education environments," said Sean McPeak, Meridia's National Sales Manager. With the launch of the MyVOTE product line consumers now have access to a low cost, high quality clicker that will allow all training rooms to become interactive learning environments.
Company
Since 1970, Meridia Audience Response has been providing innovative technology solutions for the meeting, training and entertainment industries. Combining the experience with the latest in web technology and radio frequency hardware, Meridia is now enabling audiences around the world to cast their vote and be part of the meeting, whether it involves training or interactive games.
###