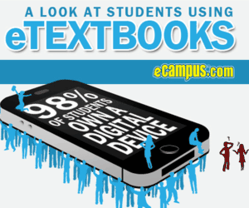 Our research indicates that the lower price is what is really driving students to purchase eTextbooks, not the extra time saved using them.
Lexington, KY (PRWEB) February 27, 2012
According to a recent survey conducted by online textbook retailer eCampus.com, purchasing trends of the increasingly popular eTextbooks are based mainly on affordability, as nearly 50 percent of those who purchased an eTextbook last semester did so because of their lower prices.
The recent survey of college students by the online textbook retailer found that "lower price" was the main reason for purchasing an eTextbook (48 percent), while "instant access" (25 percent) and "portability" (19 percent) were also cited for reasons to purchase an eTextbook over a traditional one.
Although students found eTextbooks to be a substantial money-saving option, they may not be the time-saver many assume them to be. Survey results show nearly half of all respondents (46 percent) saved only one hour or less per week by using eTextbooks.
"We did experience a marked increase in eTextbook sales in January, however eTextbook sales still only represent 3 percent of our total annual sales." said Matt Montgomery, President and CEO of eCampus.com. "Our research indicates that the lower price is what is really driving students to purchase eTextbooks, not the extra time saved using them. We find this very interesting because in the vast majority of cases renting and returning a textbook at the end of the semester still remains the most cost effective solution."
eCampus.com has seen a rapid increase in the popularity of eTextbooks since their introduction a few years ago. This past year, eTextbooks accounted for only 3 percent of all sales of college textbooks on eCampus.com, up from just .5 percent in 2009. Typically, an eTextbook can save students anywhere from 20 to 35 percent off of the list price of the physical textbook. eCampus.com now carries more than 100,000 electronic textbooks on its site available for instant access.
Another perk of using eTextbooks cited by those surveyed is having access to myriad hi-tech features, such as the ability to take notes and highlight, or copy and paste text and print pages. Survey participants found the "search" feature to be the overall favorite (52 percent), followed by "highlighting" (20 percent) and "copy/paste" (14 percent).
Lastly, the survey found the majority of students (64 percent) to be using their personal laptops when accessing their eTextbooks, even with the increasing popularity of tablets – iPads, Kindles, etc. eCampus.com transformed these findings into an infographic available for viewing and sharing on their site.
About eCampus.com
Since its founding in July of 1999, eCampus.com has grown into a major online retailer providing cheap textbooks for college and high school students. eCampus.com's stated mission is to provide the easiest, fastest, and cheapest way for college and university students to rent textbooks, buy textbooks and sell textbooks. eCampus.com believes the Internet buying experience should be fun and that shopping for textbooks should be as fast and convenient as possible. The company makes a personal commitment to every customer that eCampus.com will be the best source for everything they need.
###