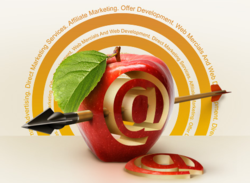 Experts at GMB Direct explain how vertical marketing drastically increases ROI while improving a company's ability to target specific customer profiles.
New York, NY (PRWEB) February 29, 2012
As the experts at GMB Direct know, companies in the industries hardest hit by the 2008 economic downturn, that have managed to survive, are now beginning to consider how to best position themselves in a less crowded, but increasingly wary, marketplace. A major factor in these considerations is the consumer shift toward investigating potential businesses online. According to integrated marketing industry veteran, John Smith, searchability, website navigability and online reputation are more important than ever to a company's bottom line.
But, for many companies, particularly small to medium sized businesses and independent agencies, the cost and logistics involved in developing these vital business needs remains unattainable or, at best, an untenable marketing expense. Enter vertical marketing. According to industry insider, Gene Mikhov, owner of GMB Direct, an integrated marketing company based in NYC, vertical marketing targets specific industries and specific groups of consumers in those industries with a sharp focus on shared interest and common buying habits. This form of marketing relies heavily on the type of market aggregation and consumer tracking made possible by online search analytics and voluntary opt-in marketing. Even as this technology has become more prevalent and the information more accessible, in general, many companies have still struggled to utilize its potential.
Enter vertical marketing. According to Mikhov, companies such as GMB Direct are able to conduct detailed research on client companies and craft marketing programs that combine positive online reputations with active, "smart targeted" marketing campaigns that only target consumers who are specifically searching for the exact services the client companies offer. Further, if these clients have a physical "brick and mortar" office space, vertical marketing companies can refine their campaigns to target local markets.
In addition to active SEO procedures, advanced analytic target assessment and reputation management, vertical marketing companies such as GMB Direct have also integrated solutions that take advantage of the explosive growth in social networking like Facebook and Twitter as well as communal social purchasing opportunities, such as Groupon or Living Social.
These integrated approaches and hyper-targeted marketing efforts have allowed companies that have recently experienced the worst economic years in decades to not only stabilize their businesses but also experience steady growth.
About GMB Direct
GMB Direct is a New York-based vertical marketing company. With advanced technology centers all over the globe, they are committed to helping businesses achieve increased revenue streams by combining next-generation technologies with quality data to come up with highly efficient tools and marketing strategies. For more information, visit GMB Direct at 20 W. 22nd Street, Suite 709 New York, NY or call 1-212-255-5212 today.
# # #