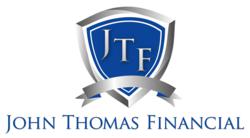 New York, NY (PRWEB) February 24, 2012
John Thomas Financial continues to utilize Modern Monetary Theory (MMT) in its economic forecasts. The firm announced today that it has completed its 2012 John Thomas Financial Economic Outlook, a yearly research report, which incorporates this approach. The report is scheduled to be released next week.
MMT is becoming more mainstream, with some major media outlets discussing it regularly now. Last weekend MMT was featured in a Washington Post article.
John Thomas Financial issued a news release on January 5, 2012 sharing the firm's success in using Modern Monetary Theory in 2011. Following the release, CNBC Senior Editor John Carney featured the firm in his early coverage of MMT, crediting John Thomas Financial as being the first firm to openly use the approach. SeekingAlpha.com contributor Cullen Roche also noted John Thomas Financial as "the first official Wall Street firm adopting MMT as their economic framework."
Mike Norman, John Thomas Financial Chief Economist, calls MMT the "most rational, concise school of economic thought for understanding and forecasting the economy.
"We use MMT exclusively and our forecasts have been extremely accurate. Where others got tripped up on U.S. growth, Europe and interest rates, we did not. We got those markets right."
John Thomas Financial CEO Thomas Belesis sees MMT as a good thing.
"We believe it equates to an advantage to our firm and our clients. It provides a better framework with which to understand our monetary system," he said.
In the future, John Thomas Financial is planning on sponsoring a series of MMT seminars to educate investors and policy makers. "We need to continue to spread the word," stated Belesis.
For timely insights, news, and commentary on economics and financial markets, visit the JTF Blog or join the John Thomas Financial community on Twitter and Facebook.
About John Thomas Financial
John Thomas Financial, a member of FINRA and SIPC, is an independent broker-dealer and investment banking firm headquartered in New York City's Wall Street district. Emphasizing a client-centric approach to managing all aspects of its business, John Thomas Financial and its affiliates offer a full complement of retail brokerage, private wealth management, and corporate advisory services tailored to the unique needs of its clients. The firm publishes the Fiscal Liquidity Index, a unique daily indicator that looks at government spending and its impact on the financial markets, as well as The John Thomas Financial Economic Outlook, a research report analyzing consumer sentiment, market outlook, credit cycles and dozens of other market influences. For more information on the firm, please visit: http://www.johnthomasfinancial.com.
###