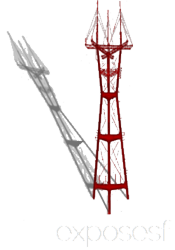 We hope to eventually have every art student in San Francisco following our account and participating in this event!
San Francisco, California (PRWEB) February 24, 2012
Expose SF announces its upcoming art competition and brings with it an exciting new path to notoriety for SF artists.
San Francisco is considered to be a city of love, progressive thought, and artistic freedom.
Despite this and all of SF's incredibly talented artists, it is interesting to note that the vast majority of the San Francisco visual artists are forced to move out of the city in order to gain recognition in the industry.
Art critics and aficionados know that San Francisco puts out some of the world's best fine artists. At the same time however, the city's art scene fails to compete with other iconic metropolises such as New York, London, Paris, and even Los Angeles.
Why is this?
San Francisco's great young artists migrate to those cities with famed art scenes. Without patrons, critics, and other artists acknowledging and talking about SF art, aspiring artists cannot stay in the city.
One company is looking to change all of that. Expose SF is an organization which intends to shed new light on San Francisco's art scene. They will do so by promoting local artists through exciting events & social media which will culminate in a large, highly publicized competition.
The creators of this organization, two San Francisco natives and an Italian, began thinking after meeting with curators of upscale galleries in Los Angeles and New York.
"They were discussing a sort of 'artist brain drain' that San Francisco is currently going through," says co-Founder Zack Chen.
"I love my city. My parents moved here from Norway and Hong Kong because they knew that this is one of the best cities in the world. I was not about to sit around and let [San Francisco's] talent leave for other places."
By giving SF artists a new way to reach notoriety, Expose SF plans to revitalize the San Francisco art scene and give SF the opportunity to move back into the forefront of the art world.
Moreover, this competition has already been growing in popularity since its inception.
Approaching nearly 2,000 Twitter followers subscribed to @ExposeSF after just 2 weeks, it has begun to pick up momentum, and the organizations coordinators have only become more enthusiastic.
"We hope to eventually have every art student in San Francisco following our account and participating in this event!" says Gabriele Genghini, co-founder from Rome, Italy.
The competition is set to take place in multiple stages.
First, SF artists will be able to submit artwork digitally for the online portion of the art competition. San Francisco Bay Area artists will be the only individuals eligible for submission and will be given a personal SF artist profile page.
After the art goes through Expose SF's quick review, an online community of artists and art enthusiasts will be able to vote for their favorite pieces on the ExposeSF.com website. The top 10 most highly voted pieces will be the first entries into the final competition.
A panel of industry professionals will then select another 5 finalists.
The art competition event will be held at a location in San Francisco (to be disclosed at a later date) in which winning finalists will be awarded prizes, like a featured exhibition tour at a gallery in San Francisco, Los Angeles, and New York, or more.
Expose SF is moving forward full speed and is now looking for any art professionals or enthusiasts who might mutually benefit from a partnership or would like to participate in Expose SF's 'Art Sponsorship' program.
Expose SF has already partnered with Vento, a bi-coastal internet solutions and online marketing company.
# # #