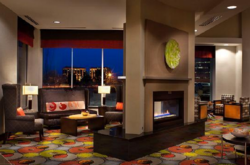 Cherry Creek, Colorado (PRWEB) February 24, 2012
Zink Bar + Patio restaurant located in the Hilton Garden Inn Cherry Creek is a contemporary bar and restaurant, with its modern day design and New American focused menu it is a great place for meeting friends or business associates in the Cherry Creek area.
The unique restaurant week menu is designed and created by Chef Anthony Sartorio and his culinary team. The Denver Restaurant Week 2012 menu is following his passion for New American Cuisine.
New American Cuisine is a term for upscale, contemporary cooking served primarily in restaurants in the United States. Combining flavors from America's melting pot with traditional techniques, New American cuisine includes ethnic twists on old world standbys. Zink Bar + Patio will be serving four New American tapas with a flight of four paired wines.
###