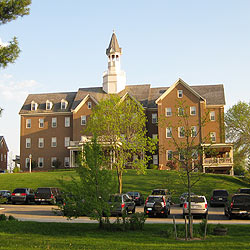 The upscale, 38-room boutique hotel, which overlooks Delafield's Williamsburg-styled downtown, was ranked #4 out of 566 Wisconsin hotels on the list.
Delafield, WI (PRWEB) February 24, 2012
The Delafield Hotel in Delafield, Wisconsin, made U.S. News & World Report's list of top-ranking hotels in Wisconsin for 2012.
The upscale, 38-room boutique hotel, which overlooks Delafield's Williamsburg-styled downtown, was ranked #4 out of 566 Wisconsin hotels on the travel report. According to the U.S. News & World Report, "We've ranked the top hotels in Wisconsin based on an unbiased analysis of awards, expert recommendations and user ratings."
Full report available here:
http://travel.usnews.com/Hotels/Wisconsin-r97/
About Delafield, Wisconsin
Located just 30 minutes west of Milwaukee and 50 minutes east of Madison, Delafield is set amid "Lake Country," an area full of pristine lakes and rolling terrain that offers gorgeous vistas. Nagawicka Lake is at the center of the city and offers many opportunities for fun in the sun. Delafield is also within minutes of 30 other nearby lakes, giving you unlimited ways to enjoy waterskiing, sailing, fishing, boating or swimming in the clear waters.
Bring along your bicycle and pedal through prairies and alongside lakes, in the miles of bike trails that crisscross Delafield – including the Lapham Peak Unit of the Kettle Moraine State Forest, and the 52-mile Glacial Drumlin Trail, which has a well-earned reputation as one of Wisconsin's premier bicycle trails. If you prefer to explore on foot, some of the hiking trails in Delafield include a portion of the Ice Age National Scenic Trail, which spans over 1,000 miles across Wisconsin from Minnesota to Lake Michigan.
Take in a few rounds of golf at one of seven outstanding golf courses within 30 minutes of Delafield – including Erin Hills, the site of the 2017 U.S. Open and one of the premier 18-hole links-style golf courses in the country.
Other Delafield area attractions include: Ten Chimney's – a living monument to theatre and the arts and National Historic Landmark, St. John's Northwestern Military Academy, Hawks Inn Museum – a fully restored stagecoach stop from the 1800s, and Old World Wisconsin – an outdoor interactive history museum of 19th century pioneer days. It's also an easy drive to popular Wisconsin summer stops in Milwaukee and Madison: Summerfest, Milwaukee's favorite baseball team, and many other art and music festivals that spring up in the warmer months.
Delafield offers a historic Williamsburg-styled downtown, three vibrant shopping districts ranging from boutique shopping to national retailers, and dozens of delicious restaurants, coffee shops and brew pubs.
In addition to The Delafield Hotel, this charming and welcoming city offers a variety of hotels and inns, with various amenities and price ranges including the popular hotel brands, La Quinta Inn & Suites, and Holiday Inn Express Hotel & Suites, and the privately owned Country Pride Inn.
Make your travel plans to stay in Delafield and enjoy many opportunities for outdoor recreation including biking trails, hiking, outstanding golf, and the many lakes. Go to visitdelafield.org or call 888-294-1082.
###