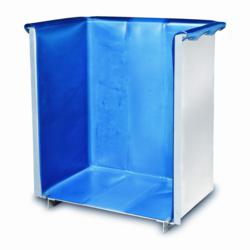 As always, we continue to work hand in hand with our suppliers to provide the best liners at the best value to our customers.
Claremore, OK (PRWEB) February 24, 2012
An industry leader in the manufacturing of flexible PVC liners is facing unprecedented pressure in raw material costs that will lead to the increase in costs of PVC liners. Witt Lining Systems' President Andrew Hotchkies announced that after a steady rise in PVC prices during 2011, the first quarter of 2012 has been met with even more increases in PVC prices. "Higher spot prices for the feedstock, and rise in demand for PVC products, only leads to higher commodity prices" Hotchkies said.
The outlook from Resin Technology Inc. for the first quarter of 2012 is a leveling demand for PVC but a modest increase in demand in the following quarters. In contrast to this report, Plastics Today reports that Chinese demand is already increasing after the New Year's holiday and that sellers were successful in driving their spot prices higher.
Houston based Westlake Chemical Corp's attempted takeover of Georgia Gulf Corp could also have a big impact on the PVC market domestically. The combined firm would be the country's second largest PVC maker and would reduce the major suppliers in the market place from five to four.
The raw feedstock for PVC could also be hampered in availability due to a scheduled maintenance down time at a Dow Chemical plant and a production unit of Shell Chemical. This is expected to lead to a higher spot price for the ethylene feedstock.
Besides upstream raw material costs, like any commodity PVC prices are also affected by national policies and macroeconomic factors. Increasing crude oil prices not only affect the raw material costs but also the energy costs and transportation costs for the producers.
"We are only in February, but already my extruders have seen two price increases in their raw material costs," Hotchkies said. "Some of that they have absorbed, some of that we have absorbed but at some point the ability to maintain pricing has to be breached," he added.
"It's an unfortunate part of being in the manufacturing business but we are subject to rising material costs, energy costs, transportation costs, and pressures on wages and benefits. As always, we continue to work hand in hand with our suppliers to provide the best liners at the best value to our customers," Hotchkies concluded.
Witt Lining Systems is located in Claremore, OK. The company manufactures flexible PVC liners used for corrosion resistance in process tanks, storage tanks, vats, sumps, pits, and containment areas. PVC brands include Spectra Blue, Exceline and Koroseal PVC along with NSF-61 PVC and Teflon liners. For more information contact 1-800-323-3335 or visit http://wittliners.com/.
###