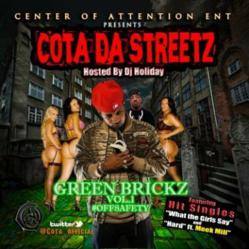 Miami, FL (PRWEB) February 24, 2012
Rap artist Cota Da Streetz recently released his [mixtape "Green Brickz Vol. 1: Off Safety." Coast 2 Coast presents the project, which is hosted by DJ Holiday, in association with Center of Attention Ent. It is now available for free download. "Green Brickz Vol. 1" features Cota Da Streetz on tracks with guest artist appearances from Meek Millz and Goldy Lux.
Armed with infectious beats, a signature flow, clever rhymes, street smarts, and a motto of "Loyalty Over Everything," rap's newest rising star Cota Da Streetz is leading the way of defining the voice of hip hop's Generation Next. Born Edward Slatton IV and raised on the streets of Atlantic City, Cota was taught lessons of being humble, keeping a strong mind, and making sacrifices in order to achieve his goals. Always strongly independent, Cota had left his mother's house by the age of 14 and was sentenced to time in a juvenile detention center by the time he was 15. Throughout this time, he always stayed in school, where he began to experiment with music. It soon became his passion.
His campaign for recognition in the music industry began in 2001, when he started rap group C.O.B. with three close friends. Being in the group influenced his decision to make music his career. What started as a few young men spitting bars with one another became an organized group with a goal to have their music heard by the masses. This founding work ethic is something Cota continues today in his solo career. Cota now uses all of his knowledge and life experiences to create an eclectic musical view of how he sees the world.
"Green Brickz Vol. 1: Off Safety" is available for free streaming and download at http://coast2coastmixtapes.com/mixtapes/mixtapedetail.aspx/cota-da-streetz-green-brickz-vol-1-off-safety-hosted-by-dj-holiday.
###