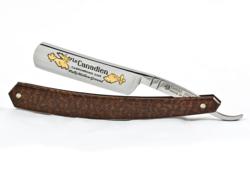 Toronto, Canada (PRWEB) February 27, 2012
Fendrihan, Canada's online destination for male shaving and grooming supplies, has released three new Thiers Issard Le Canadien Straight Razors. Established in 1884 by Pierre Thiers, Thiers Issard is one of the world's most distinguished manufacturers of straight razors and also a preeminent producer of fine cutlery.
Fendrihan is now offering the Thiers Issard Le Canadien Singing Straight Razor in 5/8" and 6/8" blade sizes, and the Thiers Issard 6/8"-7/8" Le Canadien Festooned Historical Straight Razor; all three models set in genuine Snakewood scales.
The materials used for the Thiers Issard straight razors create a high-quality product with long-lasting value. Thiers Issard straight razors are made with modern Carbonsong 135 steel and adorned with "Le Canadien" mark in 24k gold. The handle is made of genuine Snakewood scales, a precious wood sourced from Central and South America. As an additional gift, Fendrihan delivers each razor in a protective brown baragnia leather carrying case, normally a $20 value.
The large majority of Fendrihan's products are handcrafted in Europe, including the Thiers Issard collection, which is handmade in Thiers, France. Fendrihan's products are carefully chosen to bring time-honored methods to the customer and revitalize the pleasure of shaving.
For product images and descriptions, visit http://www.fendrihan.com. Follow the company on Twitter @perfectshave for other updates.
About Fendrihan:
Fendrihan is the premier Canadian online destination for shaving and grooming supplies for men. With a comprehensive product range that includes traditional grooming staples, hard-to-find products from around the globe and some of the most reputed names in gentlemen's personal care, Fendrihan's selection appeals to veteran wet-shavers and men of any age looking to elevate their daily grooming rituals.
Contact:
Sales(at)fendrihan(dot)com
1(905) 696-9997
###