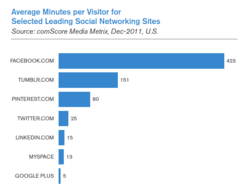 networking around shared interests takes the main stage
Los Angeles, California (PRWEB) February 29, 2012
According to comScore's Digital Future in Focus 2012 report, Tumblr comes in at only second to Facebook among social networking sites in terms of user engagement. This means users spend more time on Tumblr compared to other social networking sites outside of Facebook. It's quickly becoming clear that it represents the future of blogging and social networking.
This development is especially promising for sites that offer products and services exclusively for Tumblr, like The LayoutShop.
Easy personalization, the best Tumblr themes, and the feed integration have spawned a developing trend in social networking where shared interests are the determining factor.
This momentum towards the interest graph is supported by comScore, stating that "networking around shared interests takes the main stage." Social networking is becoming more about shared common interests rather than the individual users and their themes on Tumblr.
This, in part, may be a reaction to the many security and privacy issues that have continued to plague Facebook. Sharing on Tumblr can be done anonymously and the service requires no personal information other than an e-mail address.
This can also be attributed to Tumblr's incredibly easy sharing, customization and layout shop features that are akin to blogging sites like Blogger and Wordpress.
Tumblr's use of a "feed" and blogging platform, creates a hub for users looking to share and re-share their interests instead of themselves online. Users "follow" other Tumbler blogs (or Tumblogs) that they like, and that blog's most recent posts are displayed on the Tumblr feed.
This is the same system that Twitter uses, except Tumblr allows for more multimedia posts over regular text posts like on Twitter. Another of the site's most prominent features is the use of Tumblr themes that give your Tumblog a distinct look, effectively making it a personal website.
This process is made extremely easy for casual users, as knowledge in HTML or CSS coding is unnecessary in maintaining your Tumblog.
All these elements combined has given Tumblr, and similar sites like Pinterest, a distinct and unexpected edge over much larger competition like Facebook, Twitter, and Google+.
New trends are starting to emerge in internet social behavior. One in which the network's connecting nodes are no longer represented by the individual users, but by those same users' common "likes" and personalities.
The future of social networking is decidedly becoming a world of shared interests, and Tumblr is at the forefront of this new digital surge.
comScore is an internet marketing research company that provides marketing data and services to many large internet businesses. conScore tracks all internet data studying internet behavior, including social media.
###