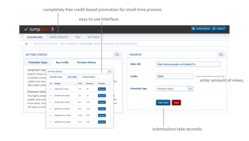 Calgary, AB (PRWEB) February 26, 2012
With the non-recessing entertainment industry; YouTube being the third largest web site in the world has been well known to turn ordinary people into famous artists overnight. Talent is discovered on YouTube every single day and JumpStart gives opportunity for all the talented people to become noticed.
"Not only is it possible to use YouTube to catch a career in the entertainment industry, it's becoming a more popular option," says Zachary Sniderman from Mashable. "The most famous and notable YouTube discovery is Justin Bieber."
Videos with high view counts become more respected as opposed to a video with very little views. "It adds credibility and seriousness," said Mark Weston, a YouTube Partner since 2007.
Getting exposure can be hard, but as a solution to this problem, JumpStart has developed a unique traffic system to increase YouTube views rapidly so that viral potential videos are able to get that initial boost to hit the most viewed charts and be captured by millions around the world. Improving the number of targeted visitors to a video is often stated as the major key to succeeding on YouTube, mainly because without a constant flow of traffic, a video is relatively just one out of millions uploaded each day.
JumpStart's all new web management interface and competitive pricing allows users to buy YouTube views at a fraction of the cost, going as low as $1.50 per 1000 views making it even more affordable for new upcoming artists to gain exposure.
The new easy to use online dashboard makes it easy to purchase YouTube views at various speeds without the hassle of manually having to find a provider. Videos can be boosted in virtually seconds after registering. JumpStart also features a completely free slow promotion system for users who are looking for a natural looking slow boost in views.
About Us:
Founded in 2009; JumpStart LLC has been the leading views provider in North America, dealing with multiple mainstream record labels and focusing on new artist promotion.
###