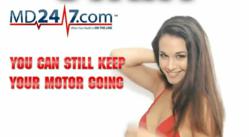 Get ready to start your engines.
Tampa, FL (PRWEB) February 24, 2012
Days before the Daytona race festivities, telemedicine specialists MD247 provided the world a brief YouTube preview of their racy advertisements which will appear in conjunction with the Daytona 500 this weekend. The thirty second spots both cover discrete subjects that both men and women want to discuss, but prefer to keep out of the hands of chatty neighborhood medical office waiting rooms.
Visitors to the MD247 YouTube channel can view both videos by visiting http://youtu.be/2mqcPsN_KjA, or http://youtu.be/3DacIa0PJ9w. The leaked footage will also be appearing on-site the entire weekend at the Daytona 500, guaranteeing that the hundreds of thousands of spectators in attendance will have an opportunity to see what the web is buzzing about.
This unique opportunity for placement of a video advertisement came about through a cooperative agreement with Grazie Media.
MD 247 is a twenty-four hour a day affordable concierge telemedicine company based out of Seminole Florida. All members have unlimited telephone access to a nationwide medical support team with just a phone call. MD247.com has a virtual platoon of Registered Nurses and board certified physicians available to members for ALL non-emergency situations. You can learn more about MD247.com by visiting.
###