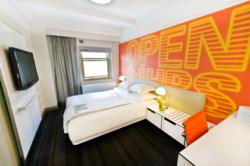 What a great room! We loved the bed and bathroom! Plus the location was close to everything! It's our second trip to NYC and first stay at The Milford - we'll be back to both!
(PRWEB) February 24, 2012
Whether you're visiting New York City for a Family Vacation, to attend an International Trade Show, or to enjoy a Major Sporting Event or Concert at Madison Square Garden, and you need to choose an NYC Hotel for your stay, choose The Milford, a Times Square Hotel, with Newly Renovated Guest Rooms that feature modern décor and fabulous amenities that completely replace the outdated Guest Rooms once associated with the property.
Each Times Square Guest Room of The Milford has been renovated with modern luxuries and contemporary furnishings that make The Milford one of the trendiest, exciting Hotels in Times Square. With brilliant artistic flair, The Hallways and Newly Renovated Guest Rooms now reflect the unique personality, styling, excitement, and energy of New York's vibrant neighborhoods, including Central Park, Midtown, Chinatown, the Lower East Side, SoHo, East Village, Greenwich Village, the Financial District and the Meatpacking District.
View The Milford's Newly Renovated Guest Rooms>
The Milford's Newly Renovated Guest Rooms mark a sharp departure from the old and include palettes of rich colors, striking graphic patterns, clean lines, and contemporary furnishings as a tribute to the famed NYC neighborhoods. For example, the design of the newly renovated Guest Rooms on the Central Park Floor boast colors and patterns of green grass, tree-lined walkways, and vibrant flower gardens, while the Times Square Floor is punctuated with splashes of bold colors and tasteful accents of the iconic billboards and signs that the NYC Neighborhood is famous for.
To celebrate the exciting unveiling of The Milford's Newly Renovated Guest Rooms, book your NYC Hotel Reservation before February 29, 2012 and enjoy Newly Renovated Guest Rooms at Discounted Hotel Room Rates from only $70.00, plus a "New York Eat & Play Card" that will save you more than $100.00 a day on exciting NYC Activities, Dining, Nightlife and more. Book by February 29, 2012 and stay through New Year's Eve December 2012.
To entice travelers to experience the Newly Renovated Guest Rooms, each Guest Room booked in the next 10 days is accompanied by 1 free "New York Eat & Play Card" ($25.00 value). Present your "New York Eat & Play Card" to any of more than 100 participating venues including Lounges, Attractions, Retailers, NY City Tours, Broadway Shows and more, and you'll receive instant discounts of 10 – 50% off your entire bill – easily saving more than $100 every day.
View more details of the "NYC 10-Day Sale" Package or Book Now>
The Milford is close to NYC's most popular Activities & Attractions: Rockefeller Center, Empire State Building, Carnegie Hall, MOMA, Madison Square Garden, Penn Station, Garment District, Diamond District, Central Park, Jacob Javits Convention Center and City Tours, Night Clubs, Restaurants and Shopping.
The Milford's Website features valuable tools to help NYC Travelers make the most of planning their trip to New York City and Manhattan including:

Hotel and NYC Photo Tour: This Interactive Tool features animated Images, Graphics and Text to present some of this NYC Hotel's features and points of interest around Manhattan and NYC.
Things to Do in New York: The Milford's Website features an extensive list of New York Activities and New York Attractions.
New York Restaurant Guide: Great food is a big part of any Vacation to New York City. The Milford has created a Manhattan Restaurant Guide that includes the Top 25 Restaurants in Manhattan.
Receive Exclusive Offers: Visitors to The Milford's Website can click on the "Receive Special Offers & Travel Tips" Graphic Ad and simply provide their name and email address to receive future, exclusive Special Offers from The Milford.
About The Milford - A New York Hotel:
The Milford - A New York Hotel is located in the heart of New York City, surrounded by Times Square, the Broadway Theater district, New York Restaurants and NY Nightclubs, the subway, New York Shopping and New York City Tours.
This historic New York Hotel is undergoing an extensive $140 million renovation to include each of the 1,300 Guest Rooms and Guest Suites, Lounge, Fitness Room, Lobby area and all common areas of the Hotel.
This Times Square Hotel is perfectly located near all the New York Activities and New York Attractions that brings visitors to New York from all the world over: Jacob Javits Convention Center, the Financial District, Madison Square Garden, MOMA, Central Park, the Rockefeller Center, Greenwich Village, and much more is within minutes by walk or ride. Come see the best of New York and stay at The Milford Hotel – the favored destination for a Times Square Hotel.
View our current NYC Hotel Specials & Vacation Packages.
Check Rates or Make Reservations or call toll free: 888.352.3650.
Take a Tour of The Milford - A New York Hotel.
###