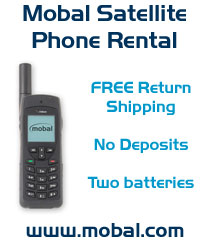 Our satellite phone rentals come with FREE standard return shipping, two batteries and no deposits, that really sets us apart from our competition
New York, NY (PRWEB UK) 27 February 2012
Despite a generally slow year for the American economy, Mobal.com exceeded expectations and outpaced the industry with a highly successful year of satellite phone rentals. Mobal.com experienced strong growth thanks to its affordable rates, nearly unlimited coverage and helpful, well-designed website that offers expert guidance from Stephen Clough, the CTO of Mobal Communications. Thanks to its unparalleled performance this year, Mobal.com is continuing to establish itself as a trusted online outlet for satellite phone rentals, whenever and wherever consumers need them.
At a time when cellular phones are more popular than ever, you might assume that cellular service is available everywhere. However, that's far from the truth. Cellular phones are useful, but sadly, their coverage is quite limited. These devices require you to be within your company's cellular tower range if you want to have service. Unfortunately, this setup means that your phone will be all but useless if it is out of the local service area. If you have to go overseas on business or want to go camping in a less densely populated area, you may find that you're out of luck due to the lack of cell phone service. In these all too common cases, having a satellite phone can save you the frustration and the danger of being out of touch.
By offering affordable rates on highly capable phones on the web at Mobal.com, Mobal Communications has quickly established itself as a leader in this developing field. Mobal.com provides a wide variety of ordering options, including next-day and next-morning shipping services and special shipping accommodations to those living in Alaska and Hawaii. This ensures that wherever you are and wherever you're planning to go, Mobal Communications can make sure that you have the equipment you need.
Mobal.com has also earned accolades for realizing that not everyone is familiar with satellite phones and in response, providing a broad range of educational resources on its website. Mobal.com's greatest satellite phone resource is the guide compiled by satellite phone expert Stephen Clough, who is the CTO of Mobal Communications. With more than two decades of experience dealing with satellite phones, Stephen has seen the industry grow and advance, so he has the insight to help any consumer understand which device is best.
Whether you're looking to buy or rent a satellite phone, Stephen Clough can help you navigate concerns ranging from price and features to comparing the Inmarsat and Iridium satellite systems. Both satellite phone systems have pros and cons, and the experts at Mobal.com can help you figure out which one is the better choice based on your priorities.
Thanks to the courteous and convenient service, knowledgeable experts, wide selection and attractive prices, Mobal Communications have become a well-trusted and revered company in the communications industry. Whether traveling near or far, for business or adventure, Mobal.com has the perfect product for any consumer.
Mobal Communications Inc have been renting and selling satellite and international cell phone services for over 20 years. For more information on the company and its products please visit http://www.mobal.com, call 888-888-9162 or email the customer support team at support(at)mobal(dot)com.
###