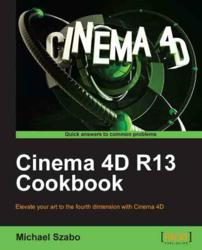 Birmingham, UK (PRWEB) February 28, 2012
Cinema 4D R13 Cookbook is Packt's latest release this month on 3D designing and animation. With short recipes throughout, the book aims to help readers master all the important aspects of Cinema4D. Key recipes include learning useful tools and methods for creating 3D objects in this application by Maxon, creating camera setups, light scenes, texturing, rendering, and using advanced features like Mograph, Xpresso, and Dynamics. Translating real-world knowledge of cameras and lighting into 3D canvas gets easy with this book.
The book is now available with Packt in print and popular e-book formats.
Cinema 4D R13 Cookbook begins with the basics of using the Cinema 4D program, moving right into recipes for creating 3D objects. It continues with easy guidance on setting up lights, cameras, and materials true to practical art-work. Towards the end, the book introduces the reader to powerful tools like Xpresso, Mograph, and Dynamics.
Compiled of short recipes this cookbook enables readers to learn how to:
use deformers for design adjustments and manipulation
create camera setups for capturing designs in all dimensions
properly light scenes using real-world techniques
texture objects, and render efficiently with optimum results
develop complex animations using Mograph
create sophisticated, smarter projects using Xpresso
Readers who want to quickly learn Cinema4D and master all its features to create real-world 3D applications will find this book indispensable. For complete information about the book, please visit here.
Cinema 4D and Maxon: MAXON Computer GmbH was founded in 1986 by the current CEOs Harald Egel, Harald Schneider and Uwe Bärtels. The company's headquarters is located in Friedrichsdorf, Germany, just north of Frankfurt Main.
MAXON's product line is centered around its core applications CINEMA 4D, a leading animation package for media production, and BodyPaint 3D, its pioneering 3D painting package. These applications are characterized by their speed, dependability and state-of-the-art technology.
About Packt Publishing: Packt is a modern, unique publishing company with a focus on producing cutting-edge books for communities of developers, administrators, and newbies alike.
# # #